Multimedia Gallery - Andisol: Thaptic Hydrudand
---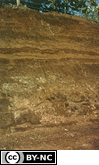 ID # 81
Andisol: Thaptic Hydrudand
From The Marbut Memorial Slide Collection
STEM Standard addressed: LS2B - Cycles of Matter and Energy Transfer in Ecosystems
Appropriate Grade Level(s)
Materials are best used for
Classroom Lectures
Distance Education Classes
Extension Presentations
General Course Areas
Soil Taxonomy and Genesis
Category: Andisols
Description
Slide 5-1. Thaptic Hydrudand. Hydrol Humic Latosol. Location: Island of Hawaii, Hawaii. Parent Material: Volcanic Ash. Horizons and Depths: Alternating A and B horizons representing several cycles of soil development and ash fall; A,B 0-250 cm (0-98"); C 250+ (98"+). The prominent layers in the upper 250 cm represent soil horizons. Buried soils at approximately 100 cm and 220 cm are superimposed on various ash falls. The white specks in the C horizon are gibbsite coatings. This soil formed under 3400 to 4000 mm (135-160") of rainfall.
References
Soil Science Society of America. 1993. The Marbut Memorial Slides. SSSA, Madison, WI.
Peer Review: Yes
Credit this item to: SSSA
Media Date: 1993-07-01
Provided By: (SSSA) Soil Science Society of America
Author(s)/Creator(s)
* Soil Science Society of America
SSSA

Keywords
Marbut
Soil Order
Soil Horizon - General
Soil Profile - General
Udand
Hydrol Humic Latosol
Comments
Please login to submit a comment.
---
Log In to your account
Already a member, certified, or existing customer?*
* Cookies must be accepted to log in.
Not sure if you have an account?
Check Your Email
Join Us!
Connect with members and access the information you need.
Learn more.
Ready to Join?
If you have an account, login on the left. Not sure if you have an account or need to create one? Check your email with the link above. We look forward to welcoming you.