Multimedia Gallery - Soils and Climate- November 2015
---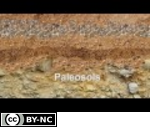 ID # 44
Soils and Climate- November 2015
Soils and Climate
STEM Standard addressed: ESS3D - Global Climate Change
Appropriate Grade Level(s)
Materials are best used for
Classroom Lectures
Extension Presentations
General Course Areas
Introduction to Soil Science
Category: Environment & Landscape
Description
Soils help moderate global temperatures, store carbon, and can preserve records of past climates. Soil is a precious natural resource that has significant interactions with Earth's climate system, but it can't do its job if we keep disturbing it. When soils are allowed to interact with the plants and water systems they were meant to support, soils support life.
References
This video was developed for the 2015 International Year of Soils, November theme of Soils and Climate. More resources are available at www.soils.org/iys/12-month-resources/november.
Peer Review: Yes
Credit this item to: Soil Science Society of America
Media Date: 2015-11-01
Provided By: (SSSA) Soil Science Society of America
Author(s)/Creator(s)
* Soil Science Society of Ameria
SSSA

Keywords
IYS
Soil
Methane
Climate
Change
Palesol
Weather
Dust bowl
Desertification
Greenhouse gas
Comments
Please login to submit a comment.
---
Log In to your account
Already a member, certified, or existing customer?*
* Cookies must be accepted to log in.
Not sure if you have an account?
Check Your Email
Join Us!
Connect with members and access the information you need.
Learn more.
Ready to Join?
If you have an account, login on the left. Not sure if you have an account or need to create one? Check your email with the link above. We look forward to welcoming you.