Multimedia Gallery - Inceptisol - SoilScape (Chewacla Series)
---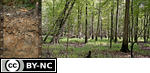 ID # 31
Inceptisol - SoilScape (Chewacla Series)
This image is a picture of a soil profile and representative landscape for the Inceptisol order.
Appropriate Grade Level(s)
General Course Areas
Introduction to Soil Science
Soil Taxonomy and Genesis
Other
Category: Inceptisols
Description
This composite photo is a soil profile, with a superimposed depth ruler, and a representative landscape photo. The soil shown is from the Chewacla Series and is classified as Fine-Loamy, Mixed, Active, Thermic Fluvaquentic Dystrudepts.
Peer Review: No
Credit this item to: Photo by John A. Kelley, USDA Natural Resources Conservation Service
Media Date: 2007-09-17
Provided By: Dr. David A. Crouse
Author(s)/Creator(s)
* David A. Crouse
NC State University - Soil Science

Keywords
Soil Orders
Taxonomy
Inceptisol
Comments
Please login to submit a comment.
---
Log In to your account
Already a member, certified, or existing customer?*
* Cookies must be accepted to log in.
Not sure if you have an account?
Check Your Email
Join Us!
Connect with members and access the information you need.
Learn more.
Ready to Join?
If you have an account, login on the left. Not sure if you have an account or need to create one? Check your email with the link above. We look forward to welcoming you.