Multimedia Gallery - Profile of an Alpine Andisol
---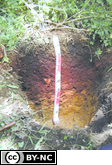 ID # 134
Profile of an Alpine Andisol
Well-developed horizons of an alpine andisol
Appropriate Grade Level(s)
Materials are best used for
Classroom Lectures
Distance Education Classes
Extension Presentations
Website Information
General Course Areas
Introduction to Soil Science
Description
Under alpine conditions, the weatherable volcanic parent materials associated with Andisols lead to soils with more highly developed horizons. Figure 7-20 shows an alpine andisol. These soils have a low bulk density and high phosphorous fixing capacity.
Peer Review: Yes
Credit this item to: Know Soil Know Life, SSSA
Media Date: 2012-12-01
Provided By: (SSSA) Soil Science Society of America
Author(s)/Creator(s)
* Know Soil Know Life
SSSA

Keywords
Comments
Please login to submit a comment.
---
Log In to your account
Already a member, certified, or existing customer?*
* Cookies must be accepted to log in.
Not sure if you have an account?
Check Your Email
Join Us!
Connect with members and access the information you need.
Learn more.
Ready to Join?
If you have an account, login on the left. Not sure if you have an account or need to create one? Check your email with the link above. We look forward to welcoming you.