Multimedia Gallery - Soil Taxonomy
---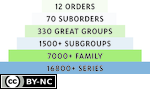 ID # 133
Soil Taxonomy
An overview of soil classification
Appropriate Grade Level(s)
Materials are best used for
Classroom Lectures
Distance Education Classes
Extension Presentations
Website Information
General Course Areas
Introduction to Soil Science
Description
Soil Taxonomy is composed of six levels: order, suborder, great group, subgroup, family, and series (figure 5–4). The system has been designed to classify any soil in the world and can be complex. The taxonomic name of a soil contains a great deal of information about the nature and properties of that specific soil. For the purposes of this book we will focus only on the highest (order) and lowest (series) levels. Soil orders are the most general level of classification in soil taxonomy. Orders are similar to kingdoms in the Linnaeus system of classifying organisms. Each order is based on one important diagnostic feature such as permafrost for Gelisols or shrink–swell clays for Vertisols. The taxonomy follows a strict dichotomous sequence, so that once a soil is placed in an order it cannot be moved to another order. The key diagnostic feature for a given order is based on its significant effect on the land use or management of all soils in that order. The orders also represent different weathering intensities or degrees of formation.
Peer Review: Yes
Credit this item to: Know Soil Know Life, SSSA
Media Date: 2012-12-01
Provided By: (SSSA) Soil Science Society of America
Author(s)/Creator(s)
* Know Soil Know Life
SSSA

Keywords
Comments
Please login to submit a comment.
---
Log In to your account
Already a member, certified, or existing customer?*
* Cookies must be accepted to log in.
Not sure if you have an account?
Check Your Email
Join Us!
Connect with members and access the information you need.
Learn more.
Ready to Join?
If you have an account, login on the left. Not sure if you have an account or need to create one? Check your email with the link above. We look forward to welcoming you.