Team USA Wins International Soil Judging Contest
---
June 08, 2014
Twelve Teams from 10 countries converged on Jeju, Korea June 4 for the International Soil Judging Contest held at the World Congress of Soil Science. Students came from USA, Japan, China, Korea, South Africa, Australia, Taiwan, Mexico, Hungary, and United Kingdom.
Team USA-B took first overall. Members of the winning team include:
Tyler Witkowski, University of Maryland
Caitlin Hodges, University of Georgia
Emily Salkind, Virginia Tech
Kyle Weber, University of Wisconsin, Platteville
Coached by Dr. Chris Baxter of University of Wisconsin, Platteville
Team USA-A took Second place overall. Members of the Team include:
Bianca Peixoto, University of Rhode Island
Julia Gillespie, Virginia Tech
Nancy Kammerer, Penn State
Brian Maule, Northern Illinois University
Coached by Dr. John Galbraith of Virginia Tech
Tyler Witkowski took Second place overall individually. Emily, Nancy, Julia, and Caitlin also placed in the top 10 individuals.
Congratulations to these talented Soil Scientists!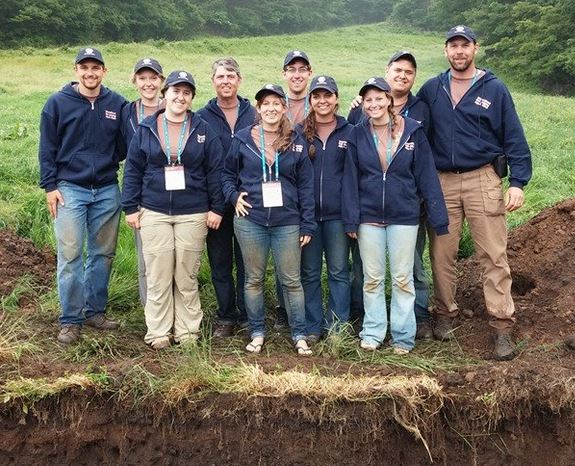 Left to right are Tyler Witkowski, Caitlin Hodges, Bianca Peixoto, Coach John Galbraith (Virginia Tech), Emily Salkind, Brian Maule, Nancy Kammerer, Julia Gillespie, Kyle Weber, and Coach Chris Baxter (UW-Platteville).