Young scientist explores soil
---
May 21, 2015
Have you considered what might happen to your house during a liquefaction event? Sixth-grader Joshua Miller has.
When it comes to liquefaction, think earthquake and muddy quicksand. The quake releases water from the water table, resulting in a slippery sediment that is no longer able to support weight. Miller's science fair entry answered the question, "What type of soil best supports a house during a liquefaction event."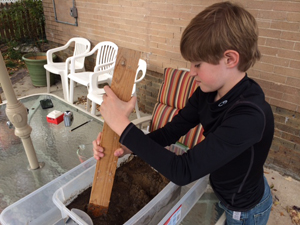 "I've actually been trying to incorporate the phenomenon of liquefaction into a science fair project since 2012 and my thoughts finally came together last fall. It's an interesting coincidence that 2015 is the International Year of Soils!"
Miller began with an interest in fossils. "The Denver Museum of Nature and Sciences produced a documentary…which introduced me to the idea of liquefaction. After this I was fascinated by liquefaction and knew I had to experiment with it."
To do so, Miller filled containers with peat, sand, and topsoil. He added a Lego house to the top. By nesting the container inside a larger box, adding water to the soil, and shaking the outer box, he was able to simulate a liquefaction event. Miller measured how much the Lego house sank after the "earthquake" and recorded his observations.
"I was really proud that my design produced the result I was hoping for," Miller said.
Along the way, Miller also discovered facts about soil. "I learned that soil is often times divided into different groups based on stability. I didn't realize there were so many differences among soil types."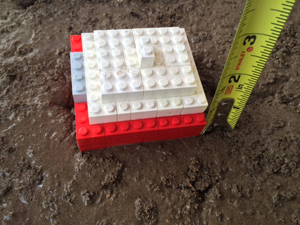 Miller is a student at Skinner Middle School in Colorado. His teacher, Josephine Cockrell, said a school environment that supports STEM (Science, Technology, Engineering, and Math) subjects is key to student success. "We are one of very few schools that still hold a school level science fair and our entire student body participates. In addition, students have many STEM opportunities including an Honors Science extension class, a STEM elective and outside opportunities such as additional science fairs, Science Olympiad, Global Water Challenge, and Destination Imagination. We have some amazing scholars and lots of opportunities for them to pursue their science interests."
Miller brought his experiment results to the Colorado State Science Fair after taking third place in the Denver Metro Regional Science and Engineering Fair. And for his future? "I'm really interested in soil stability in general. I would like to check dig sites for stability enough for excavations to take place. I could see myself doing this for a museum."
Would you like to create a liquefaction event? Look for directions for Miller's experiment in the International Year of Soil's "Soils Support Buildings/Infrastructure" month of May as one of the "Extra Activities."