Vadose Zone Journal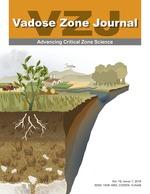 Featured Content
On the cover: Characterizing a coarse alluvial vadose zone is challenging, but essential if we are to understand water movement in this environment. Researchers characterized sediment that was then used to derive data across a wide moisture range on different size fractions combining the simplified evaporation experiment and the dew point method.
See "Hydraulic Characteristics of Alluvial Gravels for Different Particle Sizes and Pressure Heads," by Saška Mc Grath, Jože Ratej, Vojkan Jovičić and Barbara Čenčur Curk. doi:10.2136/vzj2014.08.0112
New! Special Section: Soil as Complex Systems
Guest Editors: Eoin Brodie, Boris Faybishenko, Bill Riley, Lawrence Berkeley National Laboratory, CA; Allen Hunt, Wright State University, OH; Fred Molz, Clemson University, SC; Yakov Pachepsky, USDA-ARS, Beltsville, MD
Announcements
Call for Nominations: Vadose Zone Journal Editor
SSSA is seeking nominations for the editor of Vadose Zone Journal, with a term of service to begin January 2016. Interested persons may nominate themselves or be nominated by an active member of SSSA. Candidates should email (i) a vita including a list of previous editorial experience and (ii) a vision statement for the journal (not to exceed one page) by 1 July 2015 to Andrew N. Sharpley, SSSA Editor-in-Chief, at sharpley@uark.edu.
Frequent Reviewer Credit Program
Reviewers who complete five reviews during the calendar year will be eligible to publish an accepted paper during the following year without paying publication charges. Details at http://mc.manuscriptcentral.com/vzj
New Paper Type: Priority Communications
"Priority Communications" are intended to highlight time-sensitive new research results that have far-reaching impacts across the vadose zone community, i.e., "game changers." These manuscripts will undergo the same rigorous peer reviews as other submissions, but the process will be accelerated and the papers will be shorter and more accessible. Instructions for Submission
TOC alerts | Journal statistics | Search VZJ
ACSESS Digital Library Trial Subscriptions
Join SSSA | Add a Member Subscription
Interested in an instituional subscription? Request a quote!
Questions on content, submissions, or subscriptions?
Browse other ACSESS Publications
Vadose Zone Journal is published by the Soil Science Society of America, Madison, WI. Geological Society of America is a journal cooperator.
Online ISSN: 1539-1663 | CODEN: VZJAAB