Vadose Zone Journal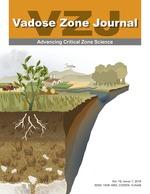 Announcements
New! Frequent Reviewer Credit Program
Reviewers are the unsung heroes of the peer-review process, and their voluntary and dedicated service is a cornerstone for the success of Vadose Zone Journal. In 2014, those reviewers who complete five reviews during the calendar year will be eligible to publish an accepted paper during the following year without paying publication charges! Details are available at http://mc.manuscriptcentral.com/vzj
New Paper Type: Priority Communications
"Priority Communications" are intended to highlight time-sensitive research results that have far-reaching impacts across the vadose zone community. These manuscripts will undergo the same rigorous peer reviewas other submissions, but the process will be accelerated and the papers will be shorter and more accessible. Priority Communications should report new results in a rapidly growing field of vadose zone research (i.e., "game changers"). Instructions for Submission
Complex Soil Systems Conference
"A Path to Improved Understanding of Complex Soil Systems"
Supported by SSSA/Bouyoucos Funds, Berkeley Lab, and DOE Berkeley, CA
Submit to one of the special sections in development.
New! Dynamic Processes in Capillary Fringes
Josef Winter, Olaf Ippisch, and Hans-Jörg Vogel, Guest Editors call for papers
TOC alerts | Journal statistics | Search VZJ
ACSESS Digital Library Trial Subscriptions
Join SSSA | Add a Member Subscription
Questions on content, submissions, or subscriptions?
Browse other ACSESS Publications
Vadose Zone Journal is published by the Soil Science Society of America, Madison, WI. Geological Society of America is a journal cooperator.
Online ISSN: 1539-1663 | CODEN: VZJAAB