Soil Science Society of America Journal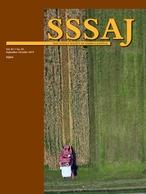 Featured Content
In this issue: The 11th Dahlia Greidinger Memorial Symposium on Advanced Methods for Investigating Nutrient Dynamics in Soils and Ecosystems was held from 4–7 Mar. 2013 at the Technion in Haifa, Israel. Among the topics of the seven papers are developments in measuring microbial taxonomic and functional diversity, Soil P, and applications of FTIR spectroscopy and N cycling. For the full collection:
sssaj subscribers: View papers
DL subscribers: View papers
Our Reviewers
The SSSAJ Editorial Board express their gratitude and appreciation to the SSSAJ reviewers for their service.
SSSAJ Reviwers for the year of: 2009 | 2010 | 2011 | 2012
Just Published
Our Just Published page has replaced our New Articles page. It shows the latest content published. The articles are citable and searchable. You can view the content in either the html or pdf version.
Moving Electronic
Beginning in January 2013, SSSAJ will be published online-only. Look for improvements to the pdf version of articles, as well as an enhanced website and inclusion in the ACSESS Digital Library.
Sign up for SSSAJ TOC Alerts
Stay up to date with the latest SSSAJ research by signing up for email Table of Contents Alerts. Log in to your account to sign up.
Soil Science Society of America Journal is a peer-reviewed international journal published six times a year by the Soil Science Society of America. Its contents focus on research relating to physics; chemistry; biology and biochemistry; fertility and plant nutrition; genesis, morphology, and classification; water management and conservation; forest, range, and wildland soils; nutrient management and soil and plant analysis; mineralogy; and wetland soils.
TOC alerts | Journal statistics | Search SSSAJ | Add a subscription
Questions on content, submissions, or subscriptions?
Browse other ACSESS Publications
Online ISSN: 1435-0661 Print ISSN: 0361-5995