Natural Sciences Education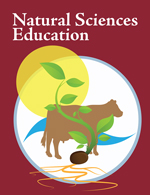 Featured Content

Workshop for Developing Learning Modules for Science Classes Based on Biogeochemical Research

The use of current, relevant material for secondary classroom education is important to the development of an effective, engaging curriculum...
View more.


Do you have a subscription through the ACSESS Digital Library?
If so, go to the Digital Library to see Natural Sciences Education.


About
Natural Sciences Education (NSE) is a peer-reviewed journal written by and for educators in extension, universities, industry, administration, and grades K–12. Read more about NSE.


Select an Archive Issue from the Index, 2006-present
Select individual issues from 2006 to the present.
Select individual issues from 1972 to 2005.
Search ASA-CSSA-SSSA journals.

Call for Papers. Submit your teaching research papers to NSE. Natural Sciences Education is peer-reviewed and accepts reports of original studies pertaining to concepts of K-12, resident, undergraduate, graduate, extension, and industrial education.
Online Submission. More Information.
Join the Editorial Board. Natural Sciences Education is seeking to recruit enthusiastic associate editors. It is an excellent opportunity for a focused individual to be a part of the NSE team. If you are interested, please contact the editor.
Electronic Only. Natural Sciences Education (NSE) is now paper-free! Beginning with Volume 42 (2013), NSE is published online-only. Look for improvements to the pdf version of articles, as well as an enhanced website and inclusion in the ACSESS Digital Library.
TOC Alerts. Stay up-to-date with the latest Tables of Contents for NSE studies. Sign up for Email Alerts now.
Log in to your account to sign up.

Editorial Board

| Editor/Reviewer Information
TOC Alerts | Journal Statistics | Add a subscription | Impact Statement Guidelines
Questions on content, submissions, or subscriptions?
Browse other ACSESS publications


Our Reviewers
The NSE Editorial Board express their gratitude and appreciation to the NSE reviewers for their service.