Journal of Environmental Quality | First Look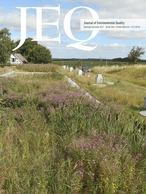 Articles are posted here immediately following acceptance to provide faster publication and better access to the newest research. These articles have not been professionally edited and do not appear as they will in the final journal issue. Finalized manuscripts will be compiled in the online versions of Journal of Environmental Quality.
Online ISSN: 1537-2537
Citation | Articles posted here may be cited by the doi. The dois are deposited when the article appears on the Just Published page.
To view articles, you must have a current subscription to Journal of Environmental Quality. If you have a subscription to the digital library, you can view the first-look articles here.
Evaluation of AGRO-2014 for predicting hydrophobic organic chemical concentrations in ponds
Lauren E. Padilla, Michael F. Winchell, and Scott H. Jackson
doi:10.2134/jeq2015.03.0149; posted 22 June 2015
Full Text

Langmuirian Blocking of Irreversible Colloid Retention: Analytical Solution, Moments, and Setback Distance
Feike J. Leij, Scott A. Bradford, Yusong Wang, and Antonella Sciortino
doi:10.2134/jeq2015.03.0147; posted 22 June 2015
Full Text

Detection of purple sulfur bacteria in purple and non-purple dairy wastewaters
Robert S. Dungan and April B. Leytem
doi:10.2134/jeq2015.03.0128; posted 22 June 2015
Full Text

Subsurface Drainage Nitrate and Total Reactive Phosphorus Losses in Bioenergy-Based Prairies and Corn Systems
Aaron L.M. Daigh, Xiaobo Zhou, Matthew J. Helmers, Carl H. Pederson, Robert Horton, Meghann Jarchow, and Matt Liebman
doi:10.2134/jeq2015.02.0080; posted 22 June 2015
Full Text

Degradation of herbicide mesotrione in three soils with differing physicochemical properties from China
Guixiang Quana, Chuntao Yinb, Tianming Chena, Jinlong Yana
doi:10.2134/jeq2014.12.0528; posted 22 June 2015
Full Text

Prevalence of and Relationship between Two Human-Associated DNA Biomarkers for Bacteroidales in an Urban Watershed
Coakley, Tricia, Gail M. Brion, and Alan E. Fryar
doi:10.2134/jeq2014.11.0494; posted 22 June 2015
Full Text

Spatial scale and field management affect patterns of phosphorus loss in cranberry floodwaters
Casey D. Kennedy, Peter J. A. Kleinman, Carolyn DeMoranville
doi:10.2134/jeq2014.11.0485; posted 22 June 2015
Full Text

Management practices impacts soil nutrients and bacterial populations in backgrounding beef feedlot
A.M.P. Netthisinghe, K.L. Cook, R.A.Gilfillen, K.R.Sistani, and P.B.Woosley
doi:10.2134/jeq2014.11.0483; posted 22 June 2015
Full Text

Use of zeolite with alum and PAC amendments to mitigate runoff losses of P, N, and suspended solids from agricultural wastes applied to grassed soils
J.G. Murnane, R.B. Brennan, M.G. Healy, O. Fenton
doi:10.2134/jeq2014.07.0319; posted 22 June 2015
Full Text

Characterization of allergen-emission sources in urban areas
Paloma Cariñanos, Cristiano Adinolfi, Consuelo Díaz de la Guardia , Concepción De Linares, Manuel Casares-Porcel
doi:10.2134/jeq2015.02.0075; posted 11 June 2015
Full Text

Nitrogen Runoff Losses During Warm-season Turfgrass Sod Establishment
Benjamin G. Wherley, Jacqueline A. Aitkenhead-Peterson, Nina C. Stanley, James C. Thomas, Charles H. Fontanier, Richard H. White1 and Phil Dwyer
doi:10.2134/jeq2015.01.0040; posted 11 June 2015
Full Text

Occurrence and fate of trace contaminants during aerobic and anaerobic sludge digestion and dewatering
Paula Guerra, Sonya Kleywegt, Michael Payne, M. Lewina Svoboda, Hing-Biu Lee , Eric Reiner, T. Kolic, Chris Metcalfe, Shirley Anne Smyth
doi:10.2134/jeq2015.01.0010; posted 11 June 2015
Full Text

Spatial patterns of heavy metal contamination by urbanization
Nele Delbecque and Ann Verdoodt
doi:10.2134/jeq2014.11.0508; posted 11 June 2015
Full Text

Impact of Reservoir Sediment Scour on Water Quality in a Downstream Estuary
Carl F. Cerco and Mark R. Noel
doi:10.2134/jeq2014.10.0425; posted 11 June 2015
Full Text

Characterizing the Performance of Denitrifying Bioreactors during Simulated Subsurface Drainage Events
Natasha Bell, Richard A.C. Cooke, Todd Olsen, Mark B. David, Robert Hudson
doi:10.2134/jeq2014.04.0162; posted 11 June 2015
Full Text

Importance of the colmation layer in the transport and removal of cyanobacteria, viruses,and DOC during natural lake-bank filtration
Ronald W Harvey, David W Metge, Denis R LeBlanc, Jen Underwood, George R Aiken, Kenna Butler, Timothy D McCobb, Jay Jasperse
doi:10.2134/jeq2015.03.0151; posted 3 June 2015
Full Text

An improved indirect procedure for estimating pesticide volatility from field trials
Steven A. Cryer, Patrick L. Havens, David E. Hillger, Ian J. van Wesenbeeck
doi:10.2134/jeq2015.03.0125; posted 3 June 2015
Full Text

Pathogen Decay during Managed Aquifer Recharge at Four Sites with Different Geochemical Characteristics and Recharge Water Sources
Sidhu, J. P. S, S. Toze, L. Hodgers, K. Barry, D. Page, Y. Li and P. Dillon
doi:10.2134/jeq2015.03.0118; posted 3 June 2015
Full Text

Branch area index of solitary trees – understanding its significance in regulating ecosystem services
Deak Sjöman, J., Hirons, A. & Sjöman, H.
doi:10.2134/jeq2015.02.0069; posted 3 June 2015
Full Text

Attachment and Detachment Behavior of Human Adenovirus and Surrogates in Fine Granular Limestone Aquifer Material
Margaret E. Stevenson, Regina Sommer, Gerhard Lindner, Andreas H. Farnleitner, Simon Toze, Alexander K.T. Kirschner, Alfred P. Blaschke, Jatinder P.S. Sidhu
doi:10.2134/jeq2015.01.0052; posted 3 June 2015
Full Text

Selecting Color-based Tracers and Classifying Sediment Sources in the Assessment of Sediment Dynamics Using Sediment Source Fingerprinting
Louise R.M. Barthod, Kui Liu, David A. Lobb, Philip N. Owens, Núria Martínez-Carreras, Alexander J. Koiter, Ellen L. Petticrew, Gregory K. McCullough, Cenwei Liua, Leticia Gaspar
doi:10.2134/jeq2015.01.0043; posted 3 June 2015
Full Text

Transport of Escherichia coli in a Soil-Based Wastewater Treatment System under Simulated Operational and Climate Change Conditions
Ivan Morales, José A. Amador, Thomas Boving
doi:10.2134/jeq2014.12.0547; posted 3 Jume 2015
Full Text

Beaver Ponds: Resurgent nitrogen sinks for rural watersheds in the Northeast U.S.A.
Julia G. Lazar, Kelly Addy, Arthur J. Gold, Peter M. Groffman, Richard A. McKinney, and Dorothy Q. Kellogg
doi:10.2134/jeq2014.12.0540; posted 3 June 2015
Full Text

Phytoextraction of DDT-contaminated soil at Point Pelee National Park, Leamington, ON, using Cucurbita pepo cv. Howden and native grass species
Surmita Paul, Allison Rutter, Barbara A. Zeeb
doi:10.2134/jeq2014.11.0465; posted 3 June 2015
Full Text

Soil C and C:N ratio change under tree canopy, tall grass and turf grass areas of urban green space
Livesley S J, Ossola A, Threlfall C G, Hahs A K and Williams N S G
doi:10.2134/jeq2015.03.0121; posted 28 May 2015
Full Text

Implementing effects-based water quality criteria for eutrophication in Beaver Lake, Arkansas: Linking standard development and assessment methodology
J. Thad Scott and Brian E. Haggard
doi:10.2134/jeq2015.01.0020; posted 28 May 2015
Full Text

Stormwater Bioretention systems- testing the phosphorus saturation index and compost feedstocks as predictive tools for system performance
Sally Brown, Amber Corfman, Katrina Mendry, Kate Kurtz, and Fritz Grothkopp
doi:10.2134/jeq2014.10.0414; posted 28 May 2015
Full Text

Effect of Biochar on nutrient leaching in a young apple orchard
Marcus A. Hardie, Garth Oliver, Brent E. Clothier, Sally A, Bound, Steve A. Green, and Duglad C. Close
doi:10.2134/jeq2015.02.0068; posted 18 May 2015
Full Text

Biomass, Nutrient, and Trace Element Accumulation and Partitioning in Cattail (Typha latifolia) during Wetland Phytoremediation of Municipal Biosolids
Nicholson N. Jeke, Francis Zvomuya, Nazim Cicek, Lisette Ross, and Pascal Badiou
doi:10.2134/jeq2015.02.0064; posted 18 2015
Full Text

The potential role of urban forests in removing nutrients from stormwater
E.C. Denman, P.B. May, G.M. Moore
doi:10.2134/jeq2015.01.0047; posted 18 May 2015
Full Text

Patch-burn grazing effects on the ecological integrity of tallgrass prairie streams
Karen E. Jackson, Matt R. Whiles, Walter K. Dodds, John D. Reeve, Jodi M. Vandermyde, and Heidi M. Rantala
doi:10.2134/jeq2014.10.0437; posted 18 May 2015
Full Text

Chemical and isotopic tracers illustrate pathways of nitrogen loss in cranberry floodwaters
Casey D. Kennedy, Anthony R. Buda, Peter J.A. Kleinman, and Carolyn J. DeMoranville
doi:10.2134/jeq2014.12.0549; posted 11 May 2015
Full Text

Effects of Site Preparation for Switchgrass-Pine Forest Intercropping on Water Quality
Muwamba, A, D.M. Amatya, H.Ssegane, G.M. Chescheir, T.Appelboom, E.W.Tollner, J.E.Nettles, M.A. Youssef, F.Birgand, R.W. Skaggs, and S.Tian
doi:10.2134/jeq2014.11.0505; posted 11 May 2015
Full Text

Phosphate treatment of lead contaminated soil: effects on water quality, plant uptake and lead speciation
John S. Weber, Keith W. Goyne, Todd P. Luxton, and Allen L.Thompson
doi:10.2134/jeq2014.10.0447; posted 11 May 2015
Full Text

Long Term Observations of Nitrogen and Phosphorus Export in Paired-Agricultural Watersheds Under Controlled and Conventional Tile Drainage
Sunohara, M.D., Gottschall, N., Wilkes, G., Craiovan, E., Topp, E., Que, Z., Seidou, O.,
Frey, S., and Lapen, D.R.
doi:10.2134/jeq2015.01.0008; posted 8 May 2015
Full Text