News Releases
---
How can I prevent erosion and runoff in my yard?
Sept. 15, 2017 – Erosion can happen on any size property. The Soil Science Society of America (SSSA) September 15 Soils Matter blog post explains how to protect your yard—and our environment—from erosion.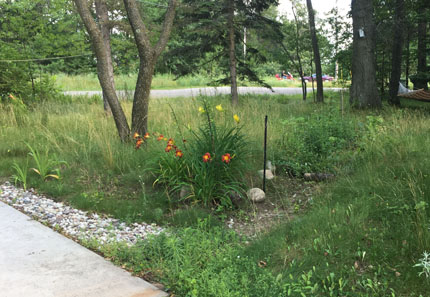 "Erosion is unsightly at best and an environmental problem at worst," says James Hartsig, a certified professional soil scientist at Duraroot. But you can do some simple things to protect your yard – and our environment – from erosion."
Hartsig recommends:
Covering bare soil with plants or mulch;
Using native plants where possible with deeper roots;
Using terraces or retaining walls for steeper slopes; and
Managing rainwater with rain barrels, French drains, or rain gardens.
"By implementing best management practices in one's yard, the chance of erosion occurring can be greatly decreased," Hartsig says. "Keeping your topsoil in place with these types of practices will help keep your lawns healthy and productive for vegetative growth."
To read the entire blog post, visit http://soilsmatter.wordpress.com.
Follow SSSA on Facebook at https://www.facebook.com/SSSA.soils, Twitter at SSSA_Soils. SSSA has soils information on www.soils.org/discover-soils, for teachers at www.soils4teachers.org, and for students through 12th grade, www.soils4kids.org.