News Releases
---
Is white beach sand really sand?
Apr. 17, 2017 – When spring break means a trip to the beach, it's good to know what you're walking on. The Soil Science Society of America (SSSA) April 15 Soils Matter blog post explains what "sand" really is—and why sands can be so different!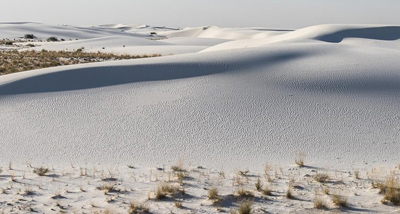 "Sand is a mineral particle of a certain size," explains soil scientist Nick Comerford. "Think of a sand particle being about the size of a grain of cayenne pepper to the width of a nickel."
But what mineral makes that particle makes all the difference! Florida white sand beaches are made of quartz, but the white sand dunes of New Mexico are made of gypsum. Sand can also be pink, violet, olive green, red, orange, black, grey, and multicolored—all depending on the source.
Due to erosion and rising sea levels, local sand is sometimes dumped to preserve the integrity of Florida beaches. But this is still sand: the same Florida quartz, moved to the shoreline.
To read the entire blog post, visit http://soilsmatter.wordpress.com.
Follow SSSA on Facebook at https://www.facebook.com/SSSA.soils, Twitter at SSSA_Soils. SSSA has soils information on www.soils.org/discover-soils, for teachers at www.soils4teachers.org, and for students through 12th grade, www.soils4kids.org.