News Releases
---
Soil Science Society of America wants you to know that "Soils Support Urban Life"
Jan. 20, 2015-- the Soil Science Society of America (SSSA) is coordinating a series of activities throughout 2015 International Year of Soil (IYS) to educate the public about the importance of soil. February's theme is "Soils Support Urban Life."
In the US, over 80% of the population lives in cities or suburbs. While the downtown areas of cities are covered with asphalt and concrete, there are still lawns, trees, gardens and parks. Under all of this "city space", even under the concrete, is soil. Soil a complex mixture of minerals, water, air, and organic matter that performs many critical functions.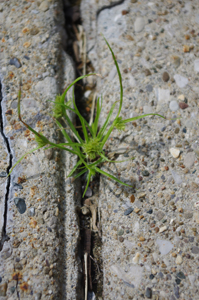 Soil is the hope of life. Green does not belong to this paved road. However, edges and crevasses offer soils the opportunity to break through the darkness and sustain life and hope. Photo: Shuang Liu
SSSA recommends that urban dwellers consider rain gardens for their yards, and compost their appropriate food wastes. The SSSA website, Discover Soils, has a "Soils in the City" section (https://www.soils.org/discover-soils/soils-in-the-city) with instructions for setting up community gardens.
"Our main goal during International Year of Soils is to help educators and the general public understand this natural resource," according to David Lindbo, SSSA's IYS task force leader. "Soil provides for us and regulates our world. We need to take care of it in return…because soils sustain life."
As part of their celebration of IYS, SSSA is developing a series of twelve 2-minute educational videos. They are working in conjunction with Jim Toomey, author of the environmental cartoon, Sherman's Lagoon. February's Soils Support Urban Life video can be viewed at www.soils.org/iys/monthly-videos. Education materials can be viewed at www.soils.org/iys.
SSSA's 6,000+ members are being encouraged to interact with the public with a series of 12 monthly messages throughout the year. In addition, SSSA members have created materials for educators to teach to the K-12 audience. All materials can be found at soils.org/iys, and will be updated throughout 2015.
Follow SSSA on Facebook at https://www.facebook.com/SSSA.soils, Twitter at SSSA_Soils. SSSA also has a blog, Soils Matter, at http://soilsmatter.wordpress.com/. Additional soils information is on www.soils.org/discover-soils, for teachers at www.soils4teachers.org, and for students through 12th grade, www.soils4kids.org.
The Soil Science Society of America (SSSA) is a progressive international scientific society that fosters the transfer of knowledge and practices to sustain global soils. Based in Madison, WI, and founded in 1936, SSSA is the professional home for 6,000+ members and 1,000+ certified professionals dedicated to advancing the field of soil science. The Society provides information about soils in relation to crop production, environmental quality, ecosystem sustainability, bioremediation, waste management, recycling, and wise land use.