October IYS Newsletter
---

October is Soils and the Products We Use month!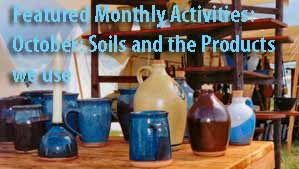 ---
Welcome to October! Here are some Quick Facts on the October Theme:
Here are some facts about soils and products we use:
Some growers and restaurants have started a movement, called Farm to Table, to help educate the public about the importance of soils—and farms—to our nutrition. This helps reconnect society to the source of their food.
The clay used in making pottery and china is a type of soil. Clay is a soil composed of very small particles. It's very sticky, and holds together very well. That makes it a great material for producing plates, urns and building materials such as bricks.
Adobe is a type of building material used for houses in many areas. It is made of clay, mixed with organic materials such as straw, and sometimes even sand, another type of soil, is added. Adobe homes were very common among the early settlers to the United States, as well as among Native Americans.
Mud or clay masks have been used for many centuries to detoxify, deeply cleanse, and soothe skin. These therapeutic types of treatments are still given in modern spas, including hot spring soaks and mud baths.
Learn more in the October Soils and the Products We Use overview.
---
October Monthly Theme Information

Each month includes activities appropriate for use in the classroom (grade level varies) and other events. View the October page for educator activities and additional information and activities from external websites on Soils and the Products We Use. Included is a Farm to Table activity, how to make "dirt shirts," and an activity for the classroom on how soils connect with products that students use.

In keeping with the Soils and the Products We Use theme and the Farm to Table concept, we have sets of seeds (carrots, cucumbers, edamame, peas, and sunflowers), sponsored by the American Society of Agronomy outreach program. It you would like a set, just provide your mailing address via this form and we'll send them out to you!

Happenings in October
(and beyond)!

October 11-17

Visualizing Earth Systems

2015-2016 School Year

Free National Park Passes for 4th Graders!

FAO Soil Quiz

What is a healthy soil? How long does it take for one centimeter of soil to form? Test your knowledge about soils with this 15 question quiz (fun for use in the classroom as well)!
---
Watch the October Soils and the Products We Use Video

All of our food, and many everyday objects that we use, depend on soil as their natural resource. No matter where you live, there is soil under you. And, it is a resource we need to protect, because soils sustain life. Download our October Soils and the Products We Use video - it's also excellent for use in classrooms and any other event/activity that will benefit from video! You can also view it directly on YouTube. Feel free to share widely!
---
Blogs and News!
Soils Blog
The October 1 Soils Matter Blog answers the question: What is "Farm to Table" and why is it important?
---
Know someone who would like to receive these monthly emails?

Refer them to our sign-up form! And, please share this with anyone you know who is interested in soils.
---
Become a Friend of Soil Science!
Do you have an interest in soil science but are not be involved in the profession of soil science? Want to keep up-to-date on SSSA? Then become a "Friend of Soil Science." You'll receive a bi-weekly email newsletter and occasional emails on activities of interest. But, not to fear, we won't be filling up your inbox! There is no charge and you can opt-out at any time. Sign-up today!
Want even more? Learn more about our free Trial Membership for greater access to all things SSSA and Soil Science!
---
Follow Us!
Follow SSSA on Facebook at https://www.facebook.com/SSSA.soils, Twitter at SSSA_Soils. SSSA also has a blog, Soils Matter, at http://soilsmatter.wordpress.com/. Additional soils information is on www.soils.org/discover-soils, for teachers at www.soils4teachers.org, and for students through 12th grade, www.soils4kids.org.
Request a Classroom Visit

Educators of community groups can request a classroom visit from soil scientists. Or, if you have a question about soils, soil science or careers in soil science, use our Ask a Soil Scientist program to get answers.