November IYS Newsletter
---
The November IYS Theme is: Soils and Climate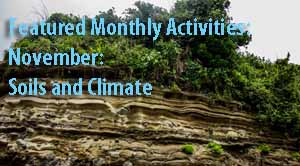 ---
Welcome to November! Here are some Quick Facts on the November IYS Theme:
According to November's IYS monthly leader, Eric Brevik, "soil is a precious natural resource that has significant interactions with Earth's climate system. But it can't do its job if we keep disturbing it." Brevik is a professor at Dickinson State University, North Dakota.
A good example of soil disturbance is called desertification. Desertification is the rapid loss of topsoil and loss of plant life on productive land in arid (dry) and semi-arid regions of the world. One-third of Earth's land area in more than 100 countries (including the United States) is at risk of desertification. The historic Dust Bowl of the 1920s and 1930s was a result of desertification caused by overgrazing and excessive tillage of soils in Texas, Oklahoma, Kansas and Colorado.
"Most desertification can be prevented—by following good farming and property management practices," says Brevik. "We need to prevent desertification so we continue to have fertile soil to grow food for the worlds' population, and to prevent disasters like the Dust Bowl from recurring."
Soils could be important in climate change, too. Recent research has shown that carbon is stored in healthy soils. "Soil organic matter holds large amounts of carbon, which is also an important part of the greenhouse gases carbon dioxide and methane," according to Brevik. "Replanting forests, protecting and restoring wetlands, and good agricultural practices can all help increase the amount of carbon stored in our soils—and keep it out of our atmosphere. Alternatively, deforestation, draining of wetlands, and poor agricultural practices can release large amounts of carbon into the atmosphere, where it can contribute to global warming."
Learn more in the November Soils and Climate overview.
---
November Monthly Theme Information
Each month includes activities appropriate for use in the classroom (grade level varies) and other events. View the November page for educator activities and additional information and activities from external websites on Soils Climate. Included is a "Playing the Farming Game," a UNESCO desertification activity, and more on erosion, vermicomposting, and weather patterns/climatic regions.
Blogs and News!
Soils Blog
The November 1 Soils Matter Blog answers the question: What is Desertification and
What Can be Done to Prevent It?
---
Thank you to our November IYS Sponsor!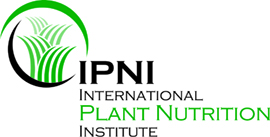 ---
Watch the November Soils and Climate Video

Soils help moderate global temperatures, store carbon, and can preserve records of past climates. Soil is a precious natural resource that has significant interactions with Earth's climate system, but it can't do its job if we keep disturbing it. When soils are allowed to interact with the plants and water systems they were meant to support, soils support life. All of our food, and many everyday objects that we use, depend on soil as their natural resource. No matter where you live, there is soil under you. And, it is a resource we need to protect, because soils sustain life. Download our November Soils and Climate video - it's excellent for use in classrooms and any other event/activity that will benefit from video! You can also view it directly on YouTube. Feel free to share widely!
---
Know someone who would like to receive these monthly emails?

Refer them to our sign-up form! And, please share this with anyone you know who is interested in soils.
---
Become a Friend of Soil Science!
Do you have an interest in soil science but are not be involved in the profession of soil science? Want to keep up-to-date on SSSA? Then become a "Friend of Soil Science." You'll receive a bi-weekly email newsletter and occasional emails on activities of interest. But, not to fear, we won't be filling up your inbox! There is no charge and you can opt-out at any time. Sign-up today!
Want even more? Learn more about our free Trial Membership for greater access to all things SSSA and Soil Science!
---
Follow Us!
Follow SSSA on Facebook at https://www.facebook.com/SSSA.soils, Twitter at SSSA_Soils. SSSA also has a blog, Soils Matter, at http://soilsmatter.wordpress.com/. Additional soils information is on www.soils.org/discover-soils, for teachers at www.soils4teachers.org, and for students through 12th grade, www.soils4kids.org.
Request a Classroom Visit

Educators of community groups can request a classroom visit from soil scientists. Or, if you have a question about soils, soil science or careers in soil science, use our Ask a Soil Scientist program to get answers.
---
Who We Are
The Soil Science Society of America (SSSA) is an international scientific society that fosters the transfer of knowledge and practices to sustain global soils. Based in Madison, WI, SSSA is the professional home for 6,000+ members and 1,000+ certified professionals dedicated to advancing the field of soil science. Members focus on soils in relation to crop production, environmental quality, ecosystem sustainability, bioremediation, waste management, recycling, wise land use, and more. SSSA supports its members and certified professionals by providing quality research-based publications, educational programs, certifications, and science policy initiatives via a Washington, DC office. Founded in 1936, SSSA celebrated its 75th Anniversary in 2011.