May IYS Newsletter
---

IYS May Theme
Soils Support Buildings and Infrastructure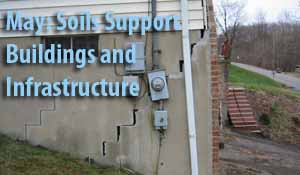 ---
Quick Facts on the May Theme:
According to May's IYS monthly leader Larry Baldwin, a Certified Professional Soil Scientist (CPSS), "No matter what type of home you live in, it's connected to the soil. Even schools, offices and stores are built on soil, and often with it."
Here are some facts about soils, buildings and infrastructure:
50% of the world's population lives in buildings made from soil components. In addition, lumber frames for construction come from trees grown in soil.

Building foundations need to be established on strong soils, capable of supporting everything from the average family home to a skyscraper.

Soils play a major role in waste water systems, too. Soil-based treatment systems rely on the natural filtration ability of soils to clean waste water in their leach fields.

Many cities are building more green space, supported with soil, to keep rainfall and snowmelt out of the storm water systems. This is decreasing the burden on the storm water systems, recharging aquifers, and improving water quality.
---
May's Monthly Theme Information
Each month includes activities appropriate for use in the classroom (grade level varies) and other events. View the May page for educator activities and additional information and activities from external websites on how Soils Support Buildings and Infrastructure.
Check out our May Desserts - Mountain Mama Mudslide and the fun Construction Cake!
Summer's Coming - Be sure to take photos with your I Heart Soil stickers and post to our website!
Blogs and News!
SSSA Member Jo Handelsman, Associate Director for Science at the White House Office of Science & Technology Policy blogs about Why Soil Rocks!
Soils Matter Blog answers the question: What Types of Soil is Good for a Foundation for Buildings or Houses?
Thanks to our followers ... SSSA Twitter account ranked in the Top 10 Twitter accounts to follow to keep up with Soils news - from the United Nations Food and Agriculture Organization!
---
Watch the May "Soils Support Buildings and Infrastructure" Video

Your home, school, workplace...all of them are built on soil...and often with it. The foundations of buildings need to be on strong soil to support them. Septic systems, storm water systems and waste water management all rely on soils to help clean our water. Soils are the backbone of the world we live in! Download our May Soils Support Buildings and Infrastructure video - it's also excellent for use in classrooms and any other event/activity that will benefit from video! You can also view it directly on YouTube. Feel free to share widely!
---
Welcome to our new IYS subscribers!
New to the International Year of Soils and everything soils-related? Welcome! First, view our IYS website to learn more about IYS and all of the resources available - both on the SSSA website and other valuable sites. We'll be sending a series of emails (such as this one) on new and upcoming information, activities, and other happenings for you to use in your classrooms and communities.
Know someone who would like to receive these monthly emails?

Refer them to our sign-up form! And, please share this with anyone you know who is interested in soils.
---
Become a Friend of Soil Science!
Do you have an interest in soil science but are not be involved in the profession of soil science? Want to keep up-to-date on SSSA? Then become a "Friend of Soil Science." You'll receive a bi-weekly email newsletter and occasional emails on activities of interest. But, not to fear, we won't be filling up your inbox! There is no charge and you can opt-out at any time. Sign-up today!
Want even more? Learn more about our free Trial Membership for greater access to all things SSSA and Soil Science!
---
Follow Us!
Follow SSSA on Facebook at https://www.facebook.com/SSSA.soils, Twitter at SSSA_Soils. SSSA also has a blog, Soils Matter, at http://soilsmatter.wordpress.com/. Additional soils information is on www.soils.org/discover-soils, for teachers at www.soils4teachers.org, and for students through 12th grade, www.soils4kids.org.
Request a Classroom Visit

Educators of community groups can request a classroom visit from soil scientists. Or, if you have a question about soils, soil science or careers in soil science, use our Ask a Soil Scientist program to get answers.