June IYS Newsletter
---

It's Summer and the IYS June Theme is appropriate ...
Soils Support Recreation!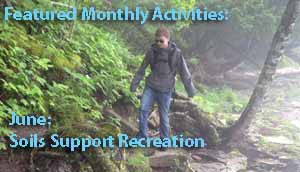 ---
Quick Facts on the June Theme:
According to June's IYS monthly leader Mary Beth Adams, "Soil is a big part of sports and recreation, whether you're on a field or in the water. Whatever game you play, soil plays a big part in it; it's not just something we wash out of our clothes after the game's over."
Here are some facts about soils and recreation:
Soils keep plants, trees and animals in our forests and parks healthy.

Tree root systems need soils for support, for nutrients and to hold rainwater for later use.

Sandy surfaces of beaches are home to not only soil microbes, but also larger animals like crabs.

Healthy turfgrass for field sports rely on soils for nutrients, water, and support.

Soils help clean the water in rivers and lakes, to provide for healthy water sports.
---
June's Monthly Theme Information
Each month includes activities appropriate for use in the classroom (grade level varies) and other events. View the June page for educator activities and additional information and activities from external websites on how Soils Support Recreation. Included are activities on clean lakes, soil compaction (staying on the trails!), wetlands, and soil and golf.
In the Florida area? The University of Florida has developed a series of soils workshops for educators on soils - featuring a combination of lectures, activity demonstrations, and tours - in celebration of IYS.
Check out our June Desserts - Dirt Bike Cake!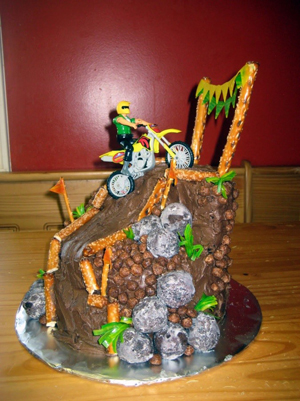 ---
Blogs and News!
Soils Matter Blog answers the question: What's the connection between sports and soil?!
IYS Congressional Resolution Passes Senate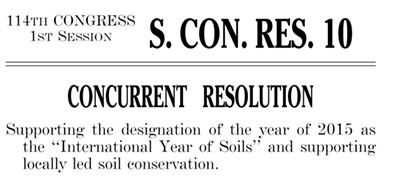 On May 13th, the Senate passed the IYS Congressional Resolution (S. Con. Res. 10) by unanimous consent. This resolution supports the designation of the year of 2015 as the "International Year of Soils" and supports locally led soil conservation. There is a House resolution as well that we hope to move through the legislative process. You can still contact your Representative and ask them to support the House resolution. This can be done easily here.
---
Watch the June Soils Support Recreation" Video

What do a nice walk in the forest or beach, a soccer game, and a horse race all have in common? They're all activities we enjoy because of soil. Download our June Soils Support Recreation video - it's also excellent for use in classrooms and any other event/activity that will benefit from video! You can also view it directly on YouTube. Feel free to share widely!
---
Welcome to our new IYS subscribers!
New to the International Year of Soils and everything soils-related? Welcome! First, view our IYS website to learn more about IYS and all of the resources available - both on the SSSA website and other valuable sites. We'll be sending a series of emails (such as this one) on new and upcoming information, activities, and other happenings for you to use in your classrooms and communities.
Know someone who would like to receive these monthly emails?

Refer them to our sign-up form! And, please share this with anyone you know who is interested in soils.
---
Become a Friend of Soil Science!
Do you have an interest in soil science but are not be involved in the profession of soil science? Want to keep up-to-date on SSSA? Then become a "Friend of Soil Science." You'll receive a bi-weekly email newsletter and occasional emails on activities of interest. But, not to fear, we won't be filling up your inbox! There is no charge and you can opt-out at any time. Sign-up today!
Want even more? Learn more about our free Trial Membership for greater access to all things SSSA and Soil Science!
---
Follow Us!
Follow SSSA on Facebook at https://www.facebook.com/SSSA.soils, Twitter at SSSA_Soils. SSSA also has a blog, Soils Matter, at http://soilsmatter.wordpress.com/. Additional soils information is on www.soils.org/discover-soils, for teachers at www.soils4teachers.org, and for students through 12th grade, www.soils4kids.org.
Request a Classroom Visit

Educators of community groups can request a classroom visit from soil scientists. Or, if you have a question about soils, soil science or careers in soil science, use our Ask a Soil Scientist program to get answers.