July IYS Newsletter
---

It's July - a great month for the theme ...
Soils Are Living!
---
Quick Facts on the July Theme:
According to July's IYS monthly leader Mary Stromberger, "Soil is a living, dynamic natural resource. It helps us sustain life—but it doesn't do its job alone. The biodiversity of life in soil is critical to a healthy world." Stromberger is a soil scientist at Colorado State University.
Here are some facts about life in soil:
Larger animals like gopher turtles and burrowing owls make their homes in soil. The soil protects them from weather and predators.

Insects often live in soil, too. They give back by creating tunnels and helping aerate the soil.

Bacteria and fungi—referred to as microbes—live in the soil. These tiny creatures provide essential services like converting nitrogen from the air into a form that plants can use for food. They decompose organic matter and aid in weathering of rocks to provide plant nutrients.
Learn more in the July Soils Are Living overview.
---
July's Monthly Theme Information
Each month includes activities appropriate for use in the classroom (grade level varies) and other events. View the July page for educator activities and additional information and activities from external websites on how Soils Are Living. Included are activities on what lives in the soil, soil biology, using a Berlese Funnel, and much more!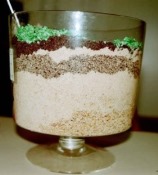 Check out our July Desserts - Dirt Pudding! The directions give instructions on how to make the pudding, with different options, and lessons on soil that can be incorporated in discussions. Another option is to have kids make individual pudding cups.
Reminder! Be sure to take photos with your I Heart Soil stickers and post to our website!
---
Watch the July Soils Are Living Video

Soil is a living, dynamic natural resource. It helps us sustain life--our food, clothing and shelter come from soil. But soil doesn't do it's job alone. Animals large and small--including microscopic--live in soil. This biodiversity is critical to a healthy world. Download our July Soils Are Living video - it's also excellent for use in classrooms and any other event/activity that will benefit from video! You can also view it directly on YouTube. Feel free to share widely!
---
Blogs and News!
Soils Blog
The July 1 Soils Matter Blog answers the questions: What types of animals live in the soil? Why is soil condition important to them?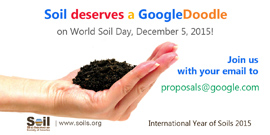 Soils deserves a Google Doodle!
We need all soil lovers to write to proposals@google.com and ask them to create a Google Doodle for World Soil Day, Dec. 5, 2015! Learn more at Google Doodles, personalize why YOU think soil deserves it's very own special doodle and send an email to Google (above) by July 15.
Maine Makes it Official!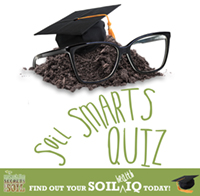 New - Soil Scholar Quiz
USDA-NRCS launches a "Soil Scholar" quiz. Just released - a fun soil health quiz for all audiences. Are you a soil health scholar? Take the quiz and find out.
---
Know someone who would like to receive these monthly emails?
Refer them to our sign-up form! And, please share this with anyone you know who is interested in soils.
---
Become a Friend of Soil Science!
Do you have an interest in soil science but are not be involved in the profession of soil science? Want to keep up-to-date on SSSA? Then become a "Friend of Soil Science." You'll receive a bi-weekly email newsletter and occasional emails on activities of interest. But, not to fear, we won't be filling up your inbox! There is no charge and you can opt-out at any time. Sign-up today!
Want even more? Learn more about our free Trial Membership for greater access to all things SSSA and Soil Science!
---
Follow Us!
Follow SSSA on Facebook at https://www.facebook.com/SSSA.soils, Twitter at SSSA_Soils. SSSA also has a blog, Soils Matter, at http://soilsmatter.wordpress.com/. Additional soils information is on www.soils.org/discover-soils, for teachers at www.soils4teachers.org, and for students through 12th grade, www.soils4kids.org.
Request a Classroom Visit

Educators of community groups can request a classroom visit from soil scientists. Or, if you have a question about soils, soil science or careers in soil science, use our Ask a Soil Scientist program to get answers.
---