January IYS Newsletter
---

Welcome to 2015 - the International Year of Soils!

It's 2015, and IYS is officially here! What exactly is IYS? View the IYS website for much more information and find out why the Global Soil Partnership at the Food & Agriculture Organization of the United Nations declared 2015 as the International Year of Soils. Learn more about the FAO and Global Soil Partnership, the history behind the IYS designation, and their IYS objectives.
We're thrilled that you are interested in bringing more information on soils into your classrooms! IYS teacher packets have been mailed and most of you should already have them on your desks (if not, it's in the mail). We've created a webpage with most of the packet materials online for downloading and use. Visit www.soils.org/iys/educational-materials-kit for downloads and please share with anyone else interested in soils.
And, this is the first in a series of emails you'll receive about IYS and activities/information that will be valuable for your classrooms.
---
NSTA National Conference Travel Grant Opportunity
As part of our celebrations of the International Year of Soils, the Soil Science Society of America is pleased to offer one $1500 travel grant to an educator to assist them in attending the NSTA National Conference, March 12-15, 2015, Chicago, IL. View the requirements and application information today on our www.soils4teachers.org website - Deadline to apply is February 10, 2015 and the winner will be notified by February 13, 2015.
---
View the Jan. and Feb. IYS Videos
SSSA is working with Jim Toomey to create 12 two-minute videos based on the IYS monthly themes.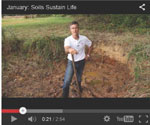 These videos are excellent for use in the classroom. View the January Soils Sustain Life video and the February Soils support Urban Life video (just released today) on our IYS Video Page. We'll be providing updates when new ones are posted.
---
Activities for Educators
Each month also includes activities appropriate for use in the classroom (grade level varies) that educators can download and use. And don't forget the valuable information you'll find on our soils4teachers website.
---
IYS and Careers in Soil Science
Inspired by all that is happening for IYS? Check out the many exciting professional opportunities and challenging careers in the field. Our Careers in Soil Science webpage contains a wealth of information.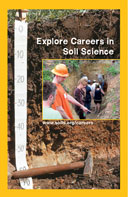 Soil scientists explore and seek to understand the earth's land and water resources. Students of soil science learn to identify, interpret, and manage soils for agriculture, forestry, rangeland, ecosystems, urban uses, and mining and reclamation in an environmentally responsible way. Graduates can choose from a range of excellent professional opportunities and challenging careers. Learn more and help spread the word with our
View a list of colleges and universities with Soil Science and Environmental Science courses and/or degrees. Be sure to also check out our information for prospective college students.
Ever wonder why a scientist decides to make soil a career focus? Who better to ask than the scientists themselves! In A Day in the Life you can read a series of interviews highlighting the breadth of experiences, challenges, and rewards found within the soil science profession.
Explore Careers in Soil Science brochure and poster.You can also contact us for multiple copies.
Request a Classroom Visit
Educators of community groups can request a classroom visit from soil scientists. Or, if you have a question about soils, soil science or careers in soil science, use our Ask a Soil Scientist program to get answers.
---
Who We Are
The Soil Science Society of America (SSSA) is an international scientific society that fosters the transfer of knowledge and practices to sustain global soils. Based in Madison, WI, SSSA is the professional home for 6,000+ members and 1,000+ certified professionals dedicated to advancing the field of soil science. Members focus on soils in relation to crop production, environmental quality, ecosystem sustainability, bioremediation, waste management, recycling, wise land use, and more. SSSA supports its members and certified professionals by providing quality research-based publications, educational programs, certifications, and science policy initiatives via a Washington, DC office. Founded in 1936, SSSA celebrated its 75th Anniversary in 2011.