February IYS Newsletter
---

IYS February Theme
Soils Support Urban Life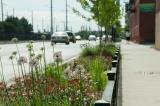 Welcome to our new IYS subscribers!
New to the International Year of Soils and everything soils-related? Welcome! First, view our IYS website to learn more about IYS and all of the resources available - both on the SSSA website and other valuable sites. We'll be sending a series of emails (such as this one) on new and upcoming information, activities, and other happenings - for you to use in your classrooms and communities.
---
Teachers - Reminder - NSTA Travel Grant Deadline fast approaching!
As part of our celebrations of the International Year of Soils, the Soil Science Society of America is pleased to offer one $1500 travel grant to an educator to assist them in attending the NSTA National Conference, March 12-15, 2015, Chicago, IL. View the requirements and application information today on our www.soils4teachers.org website - Deadline to apply is February 10, 2015 and the winner will be notified by February 13, 2015.
---
Watch the February Soils Support Urban Life Video

Do you live in a city? Most people do. Under all of this city space, even under the concrete, is a lot of soil, and it's a complex mixture of minerals, water, air, and organic matter that perform many critical functions. Help the soil serve you by making rain gardens, making and using compost, and making an urban garden. View our February Soils Support Urban Life video - it's also excellent for use in classrooms and any other event/activity that will benefit from video! You can also view it directly on YouTube.
---
Soils Support Urban Life information
Each month also includes activities appropriate for use in the classroom (grade level varies) and other events. View the February page for educator activities, additional information on Urban Soils, and our Soils Matter blog.
---
Tell Us How You Are Celebrating IYS

Tell us what you are up to in advance of the event or even after the fact. We'll be compiling events so everyone can see what is happening, attend if they are in the area, and give everyone a venue to share ideas. Simply fill out the form and we'll post your activity/event information on our IYS Activities and Events page.
---
Become a Friend of Soil Science!
Do you have an interest in soil science but may not be involved in the profession of soil science? Want to keep up-to-date on SSSA? Then become a "Friend of Soil Science." You'll receive a bi-weekly email newsletter and occasional emails on activities of interest. But, not to fear, we won't be filling up your inbox! There is no charge and you can opt-out at any time. Sign-up today!
Want even more? Learn more about our free Trial Membership for greater access to all things SSSA and Soil Science!
---
Follow Us!
Follow SSSA on Facebook at https://www.facebook.com/SSSA.soils, Twitter at SSSA_Soils. SSSA also has a blog, Soils Matter, at http://soilsmatter.wordpress.com/. Additional soils information is on www.soils.org/discover-soils, for teachers at www.soils4teachers.org, and for students through 12th grade, www.soils4kids.org.
Request a Classroom Visit

Educators of community groups can request a classroom visit from soil scientists. Or, if you have a question about soils, soil science or careers in soil science, use our Ask a Soil Scientist program to get answers.
---
Who We Are
The Soil Science Society of America (SSSA) is an international scientific society that fosters the transfer of knowledge and practices to sustain global soils. Based in Madison, WI, SSSA is the professional home for 6,000+ members and 1,000+ certified professionals dedicated to advancing the field of soil science. Members focus on soils in relation to crop production, environmental quality, ecosystem sustainability, bioremediation, waste management, recycling, wise land use, and more. SSSA supports its members and certified professionals by providing quality research-based publications, educational programs, certifications, and science policy initiatives via a Washington, DC office. Founded in 1936, SSSA celebrated its 75th Anniversary in 2011.