December IYS Newsletter
---
The December IYS Theme is Soils, Culture, and People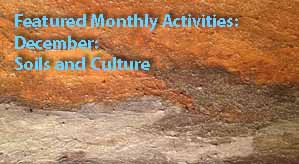 ---
Welcome to December - the final month of the International Year of Soils!
According to IYS's December monthly leader, Melanie Szulczewski, "You'll find most of the materials used in the making of traditional artwork in the Earth's crust. These include soil for color pigments used in paints, dyes and inks; sand and minerals to create glass; and, clay for ceramics. Of course, soils are crucial for growing the food, fiber and fuel that societies use, too." Szulczewski is an associate professor at the University of Mary Washington in Virginia.
Soil is often the subject of art as part of landscapes and farming scenes, but it can also be the art itself. You can see the beauty of soil in soil profiles and road cuts. The "Land Art Movement," which started in the 1950s, features soil and other earthen materials as the dominant feature in works of art, with the texture and color of the soil in a starring role.
"Other ways societies have used soils include cosmetics—for rituals, war paint, beauty and health," says Szulczewski. "Both male and female Egyptians used various oils, lotions, masks, and makeup. Ancient Greeks used red clays for lipsticks and chalk on their faces."
Soil has inspired writers for centuries as both a subject and a metaphor. Poets, such as Walt Whitman and Emily Dickinson, have written poems that refer to soil, and in the famous Dracula novel, Dracula even imported soil from his native Transylvania to his home in England! John Steinbeck's The Grapes of Wrath, about American life during the Dust Bowl, details the historical and social disaster that occurred due to soil erosion. And the (fictitious) detective, Sherlock Holmes, often found important clues in the soil.
Learn more in the December Soils, Culture, and People overview.
---
December Monthly Theme Information

Each month includes activities appropriate for use in the classroom (grade level varies) and other events. View the December page for educator activities and additional information and activities from external websites on Soils, Culture and People. Included are activities including a popular CSI activity, making a mud mask, making soil crayons, painting with soil, and much more!

Blogs and News!

Soils Blog - It's Elementary, my dear Watson!
The December 1 Soils Matter Blog answers the question: What is Soil Forensics?

The Soil Science Society of America is proud to have initiated our part in the UN IYS campaign, including theme development, member involvement (we couldn't have made this happen without the leadership of many dedicated members and staff), communications, and outreach to educators and the media.

We hope you have enjoyed reading about the many valuable functions of soils and how soils sustain life. And, we hope you will look for opportunities to integrate soil science into your classrooms. As soil-related items of interest for classrooms arise, we'll keep you updated!
---
Watch the December Soils, Culture, and People Video

Soil is a part of our daily lives. It gives us our food, clothing and shelter. Soil is a natural resource that performs wide ranging services from cleaning our water to providing a surface for our sports fields. Soil even improves our lives with artistic beauty and cultural richness. The soil on this earth is limited; it's up to us to use it wisely and preserve it for future generations, because soils sustain life.
Download our December Soils, Culture, and People video - it's excellent for use in classrooms and any other event/activity that will benefit from video! You can also view it directly on YouTube. Feel free to share widely!
---
Become a Friend of Soil Science!
Do you have an interest in soil science but are not be involved in the profession of soil science? Want to keep up-to-date on SSSA? Then become a "Friend of Soil Science." You'll receive a bi-weekly email newsletter and occasional emails on activities of interest. But, not to fear, we won't be filling up your inbox! There is no charge and you can opt-out at any time. Sign-up today!
Want even more? Learn more about our free Trial Membership for greater access to all things SSSA and Soil Science!
---
Follow Us!
Additional soils information is on www.soils.org/discover-soils, for teachers at www.soils4teachers.org, and for students through 12th grade, www.soils4kids.org.
Request a Classroom Visit

Educators of community groups can request a classroom visit from soil scientists. Or, if you have a question about soils, soil science or careers in soil science, use our Ask a Soil Scientist program to get answers.
---
Who We Are
The Soil Science Society of America (SSSA) is an international scientific society that fosters the transfer of knowledge and practices to sustain global soils. Based in Madison, WI, SSSA is the professional home for 6,000+ members and 1,000+ certified professionals dedicated to advancing the field of soil science. Members focus on soils in relation to crop production, environmental quality, ecosystem sustainability, bioremediation, waste management, recycling, wise land use, and more. SSSA supports its members and certified professionals by providing quality research-based publications, educational programs, certifications, and science policy initiatives via a Washington, DC office. Founded in 1936, SSSA celebrated its 75th Anniversary in 2011.