April IYS Newsletter
---

IYS April Theme
Soils Clean and Capture Water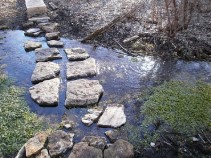 Thank You to our April IYS Sponsors

---
Quick Facts on the April Theme:
According to April's IYS monthly leader Gary Pierzynski, "Soil is a great water purifier. There are three ways that soil cleans water: physical, chemical and biological." Here are some facts from Pierzynski, a soil science professor at Kansas State University.
Physical: The particles of soil act like a filter. The ideal soil has a distribution of pore sizes so it can filter water, while also allowing the water to pass through the soil.

Chemical: Soil particles have a negative charge! That means that positive ions like calcium, magnesium and potassium can all be removed from passing water and retained by the soil. This is good, because each of these ions is a nutrient for plants! Some contaminants can be removed by this mechanism as well.

Biological: Soil is the largest bioreactor on the planet. Within the soil, bacteria and fungi transform and decompose certain chemicals. Soil microbes can change organic forms of nitrogen into ammonium ions—and even into nitrogen gas. They can also decompose some organic pollutants!
---
Watch the April "Soils Clean and Capture Water" Video

Soil is a great water purifier! Soils clean water through physical, chemical and biological systems. We need to find more ways to allow soil to provide this basic service to us, so we can keep our environment, and ourselves, healthier. Download our April Soils Clean and Capture Water video - it's also excellent for use in classrooms and any other event/activity that will benefit from video! You can also view it directly on YouTube. Feel free to share widely!
---
Soils Clean and Capture Water information
Each month also includes activities appropriate for use in the classroom (grade level varies) and other events. View the April page for educator activities, additional information on how Soils Clean and Capture Water, and our Soils Matter blog.
---
NEW - Show Your Support for IYS
We have created a customizable IYS Poster for display on a bulletin board, office door, lab wall, etc! Simply open the Poster pdf, insert your text in the "Join Us" box and print! (Note that different browsers may open the form differently.)
---
Take a Picture!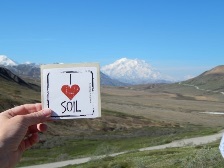 Take a picture of your school with an "I Heart Soil" sticker and load it on our map! We're capturing photos from around the globe on our I Heart Soil map. Note that if there are any people in it we'll need each person's permission to post it and if there is anyone under the age of 18, we'll need a parent/guardian's permission. Need an I Heart Soil image? Download it in any of 15 languages. View the map here.
---
Unable to attend the National Science Teachers Association Meeting, March 12-15 in Chicago?
Visit our www.soils4teachers.org page for all of the materials we made available - all downloadable and all free!
---
Become a Friend of Soil Science!
Do you have an interest in soil science but may not be involved in the profession of soil science? Want to keep up-to-date on SSSA? Then become a "Friend of Soil Science." You'll receive a bi-weekly email newsletter and occasional emails on activities of interest. But, not to fear, we won't be filling up your inbox! There is no charge and you can opt-out at any time. Sign-up today!
Want even more? Learn more about our free Trial Membership for greater access to all things SSSA and Soil Science!
---
Follow Us!
Follow SSSA on Facebook at https://www.facebook.com/SSSA.soils, Twitter at SSSA_Soils. SSSA also has a blog, Soils Matter, at http://soilsmatter.wordpress.com/. Additional soils information is on www.soils.org/discover-soils, for teachers at www.soils4teachers.org, and for students through 12th grade, www.soils4kids.org.
Request a Classroom Visit

Educators of community groups can request a classroom visit from soil scientists. Or, if you have a question about soils, soil science or careers in soil science, use our Ask a Soil Scientist program to get answers.