Classroom - Classes
---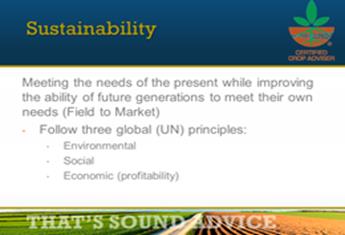 The United Soybean Board (USB) supported the development of this American Society of Agronomy webinar series and the Certified Crop Adviser (CCA) Sustainability Specialty certification (SSp).
The Sustainability Specialist credential considers sustainability in the context of people, planet, and profit. This series will provide an overview of the 3 competency areas and 12 proficiency areas to inform and equip those CCAs interested in the Sustainability Specialist credential. The 6-webinar series will explore the CCA's changing role to provide advice beyond harvest and the farm/field scale, and the need to communicate that to various audiences and stakeholders. The webinar format will use an over-arching scenario to guide discussion of Environmental and Resource Stewardship, Communicating Sustainability, and Value Chain. Each webinar will use a guided questions/answer format allowing multiple presenters to addressing the topic from different perspectives. The series will culminate with an integrated panel discussion.
For more information on the Sustainability Speciality Certification, please visit the CCA Certifications page.

CEUs:
CCA/CPAg/SSp: 1.0 Sustainability CEU per webinar
CPSS/CPSC/CST: 1.0 Professional Meeting CEU per webinar

Contributors:
Bruce Baier, AgPartners
Andy Bensend, Pioneer
Jacob Hecht, Star of the West Milling Co.
Andrew Knepp, Monsanto
Bill Robertson, University of Arkansas
Mark Easter and Matt Stermer, Colorado State University
Jed Colquhoun, University of Wisconsin
Sally Shaver, National Corn Growers Association, United Soybean Board
Sean McMahon and Jim Jordahl, Iowa Agriculture Water Alliance
Suzy Friedman, Environmental Defense Fund
Franklin Holley and Kate Schaffner, World Wildlife Federation
Larry Clemens, The Nature Conservancy
Debbie Reed, Coalition on Agricultural Greenhouse Gases, DRD Associates
$135.00 Members/Certified Professionals
$216.00 Non-members
Included webinars in this series package are:
What is Sustainability?
Environmental and Resource Stewardship
What is a Value Chain and What Does It Have to Do with Profitability?
On-farm Management Practices: Environmental and Economic Sustainability
Communicating Sustainability to Stakeholds: ID, Metics and Process
The Threefold Challenge of Sustainability: People, Proft and Planet

Each webinar may also be purchased individually by clicking on the individual title below. A series bundle purchase provides a discount.
You have 30 days to view this content after purchase.
Self-Paced
If you are enrolled in this class, please log in to see the class materials.
Class cost: $ 216.00