Virtual Soil Monoliths: Breathing new life into soils
---
February 05, 2013
A new virtual tool brings soil classification and soil monoliths to university students in a comprehensive, user-friendly format. The open access, educational tool called Virtual Soil Monoliths (VSM) is based on a collection of 197 soil monoliths at the University of British Colombia. Despite being the second largest collection of its kind in Canada, the monoliths are scattered in different places and rarely used in teaching. To bring the monoliths to students in a useful and novel format, a team of scientists, instructional designers, IT specialists, and students from the University of British Colombia created Virtual Soil Monoliths (http://soilweb.landfood.ubc.ca/monoliths/).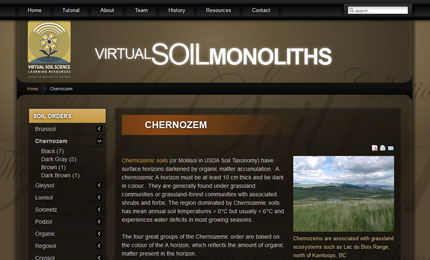 The VSM tool contains high-resolution digital photos and detailed descriptions of each monolith, basic information about the Canadian soil classification system, instructions on how to describe and identify soils, and an interactive map of British Colombia. By providing all of these features in one place, students can put each soil into a geographical context (location, climate, ecosystem) and integrate all available information about a given monolith.
The virtual monoliths, some of which are the same as the physical monoliths used in their laboratories, also allow students to learn outside of the classroom at their own pace. Feedback from students has been positive thus far, and the developers of the VSM tool are encouraging other students and instructors to use the site for further learning.
For a full description of the VSM tool and student feedback, read the recently published paper in Natural Sciences Education at https://dl.sciencesocieties.org/publications/nse/abstracts/42/1/1.