Urbanization and climate change affect stream health
---
July 25, 2013
Changes in climate and urbanization can affect watershed and stream health, but it can be difficult to tease apart the impacts of these two factors. Often times, when researchers study aspects of stream health, such as the frequency of flooding events, the effects of climate change are hidden by impacts of development in the area. Understanding the role of climate change, then, can be difficult on a local watershed scale.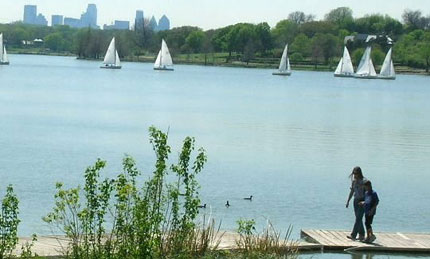 A research team, led by Jaehak Jeong of Texas AgriLife Research, recently studied how both urbanization and the changing climate were affecting stream health in the Upper White Rock Creek watershed located north of Dallas, Texas. In their study published online in a special section of Journal of Environmental Quality, Jeong and his co-authors found that increases in urbanization as well as dry weather are detrimental to stream health.
The Dallas suburbs of Richardson, Addison, Plano, and Frisco saw rapid development during the 1980s and 90s. The urbanization of the suburbs has led to questions about stream health in the Upper White Rock Creek watershed, which has a drainage area of 169 km2. To assess the risks associated with urbanization and climate change in this area, the researchers used several models – the Soil and Water Assessment Tool (SWAT), Indicators of Hydrologic Alteration (IHA), and the Dundee Hydrologic Regime Assessment Method (DHRAM).
"We used SWAT to model the hydrological impacts of urbanization and climate variability," explains Jeong. "We then used IHA with DHRAM classification to interpret the changing environment into stream health risk classifications."
Important for the study was the ability to separate the effects of urbanization from those of climate change. To study urbanization, data was collected from two different stream gauges – one at Keller Springs Road, where a high development rate was seen (2% to 92% between 1980 and 2001) and the other at Greenville Avenue, which had a lower development rate (41% to 91%). Also, data collected from stream flow gauges from 1962 to 2008 were split into two different periods – pre-urbanization (before 1980) and post-urbanization (after 1980).
"There is a noticeable increase in the contribution of surface runoff to stream flow after 1980, mainly due to increased impervious cover in the drainage area of the creek," says Jeong.
The researchers found that urbanization led to an increase in high water flows through the gauges during the post-urbanization period compared to the pre-urbanization period. Also, Keller Springs Road had a higher stream health risk classification than Greenville Avenue, primarily due to the rapid development rate there. The higher risk is associated with more and faster runoff and an increase in pollutants coming from the urbanized areas.
Effects of climate change were studied by dividing historical weather data into three groups – dry, intermediate, and wet conditions. SWAT models were created that studied these conditions while keeping other factors the same. In that way, Jeong and his co-authors were able to isolate the effects of climate change.
The team found that dry weather conditions posed a greater risk to stream health than wet weather. This was due to an increase in zero-flow days which can leave aquatic plants and animals, as well as their habitats, vulnerable.
Despite the negative impacts of climate change and urbanization on stream health, Jeong believes there are promising strategies that can lessen the effects, especially those of development. Reducing the impervious surfaces that urbanization creates can return watersheds to a more natural state.
"The best strategies will mimic the natural hydrologic system – porous pavement, rain gardens, and swales are good examples of engineered efforts that mimic natural systems," says Jeong. "We simply want to allow rainfall to infiltrate the soil."
View the abstract at: http://dx.doi.org/doi:10.2134/jeq2011.0345