Tiny worms and sweeping landscapes: A Day in the Life of Diana Wall
---
September 05, 2013
Each time Diana Wall returns to Antarctica, the same barren, dry landscape is there to greet her. While most people would feel lost in this environment, she is quite comfortable. Wall, a senior research scientist and professor at Colorado State University, has spent 24 seasons in the Dry Valleys of Antarctica studying nematodes—microscopic worms crucial to soil health and biodiversity.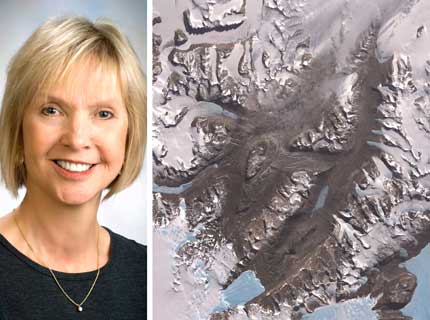 Nematodes aren't exactly on the radar of the general public, but they play an important role in the environment. In Antarctica, these tiny organisms sit atop the food chain, and the dominant Scottnema species alone is responsible for 6 to 7% of total soil organic carbon turnover. Carbon turnover works by organisms consuming carbon for energy, eventually dying and decaying, and releasing that carbon back into the environment as valuable nutrients, a process crucial to soil life.
Studying nematodes in such an extreme environment like Antarctica actually simplifies the science for researchers, Wall says. Their work is uninterrupted by other plants and animal life due to the harsh climate, allowing for a complete focus on nematodes with limited biological factors to contend with.
The research Wall and her colleagues do in Antarctica is thanks to the McMurdo Long Term Ecological Research (LTER) grant from the National Science Foundation. They spend the month of January in the McMurdo Dry Valleys—snowless valleys that comprise one of the world's most extreme desert environments. Wall and the team return home in February, their data in hand and ideas for next season's trip already swirling in their heads.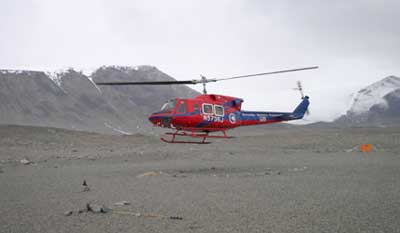 The fascination with nematodes began for Wall in graduate school, where she studied plant pathology at the University of Kentucky. "I was very interested in plant-parasitic nematodes, and when you start realizing how distinct the different species are from one another, you need to learn about their habitat," Wall says. "And that's soil."
Getting Away from the Influence of Plants
As her research with nematodes and their soil habitat continued, she began to realize the challenges of studying the interaction of nematodes and their complex environments. "Some of my colleagues kept telling me I couldn't show the roles of invertebrates in decomposition, for example, unless I could get away from the influence of plants. I'd worked in deserts, in the Sahara, but then I saw some pictures of the dry valleys in Antarctica, and I knew I wanted to research that landscape."
In this landscape, a typical soil sample may only contain one or two types of nematode species, which allows Wall and fellow researchers to isolate nematodes in a natural habitat and perform species-specific studies. In fact, only three species have been identified in the McMurdo Dry Valleys where Wall and her colleagues conduct much of their research.
"We found that one nematode was in about 60% of these barren soils, and the other two were found near more moisture," Wall says. "It's really opened up some doors for us to study things like the effects of climate change on these specific nematodes and see what happens to a species over time."
In the McMurdo Dry Valleys, environmental shifts like climate change, which can lead to increased temperatures and moisture due to glacial melt, can have a significant impact on nematode populations that have adapted to the dry, harsh conditions of the Valleys. In an area of greater biodiversity, if one species struggles to survive or even disappears, other organisms are likely to step in and take over their environmental duties. But in an extreme and barren environment like Antarctica, the loss of a dominant nematode species could have significant effects on that ecosystem by disturbing carbon cycling and decomposition in the soil.
Well-Deserved Recognition
Wall's research has been widely recognized by the scientific community. In the ice-free Olympus mountain range in Antarctica sits Wall Valley, an upland valley named after Wall for her research on the continent. And in March of this year, she was awarded the Tyler Prize, the highest international recognition handed out in the field of environmental science each year. It's an honor that culminates more than two decades of scientific work in Antarctica and on global environmental change.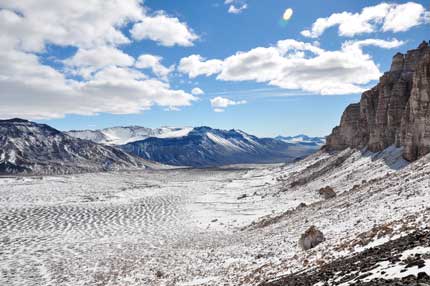 When asked if she had ever expected winning such a prestigious award, Wall laughs. "I never expected anything like this. Even the day before I got the call, I couldn't have dreamt it." Her name is now on the award's recipient list alongside the likes of chimpanzee expert Jane Goodall and ecologist George Evelyn Hutchinson.
Since her work began in Antarctica, a lot has changed. Warming and cooling trends in the past two decades have allowed Wall to observe how specific nematode species react to certain conditions, and new technologies have changed the way Wall and her colleagues research the landscape. "GPS technology wasn't very advanced when I first went to Antarctica, and our ability to receive and transmit real-time data has improved," she says. "And there's so much research going on—now we can exchange ideas with all kinds of scientists."
What hasn't changed is her passion for science, and her continued motivation to pack her bags each December, jump on a plane, and return to the most extreme landscape on the planet. "All scientists have stories to tell, and when somebody asks what's happening with my research, I get really excited talking about it," Wall says. "We're all excited about what we do. Otherwise, we wouldn't be in this job."
This story appears in the Sept.-Oct. 2013 issue of Soil Horizons.