Soil surveys and museum exhibits: A day in the life of Maxine Levin
---
May 19, 2014
Maxine Levin spent a few years as a soil scientist working at Oakridge National Laboratories early in her career. "Though I love science and research, I knew that I preferred to spend my time writing, thinking, and talking more than lab work," shares Levin. So, three years and a lot of broken glassware later, she moved on to soil surveys. "That has been my passion and avocation ever since."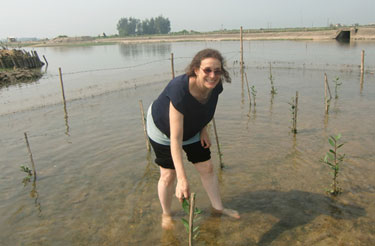 "I thoroughly enjoy the process of researching and investigating through literature searches and maps, discovering the state of the land. Then I correlate what I see in the land, so I can relate it back to farmers, ranchers, and conservationists."
Through the years, Levin took on more leadership roles with the USDA-NRCS, where she has worked as a soil scientist for 34 years. Now she works more in strategic planning and databases with the agency, but she always tries to relate back to her time in the field. "How soil interacts with all the other resources is important. I try to make the information into a usable form that can be used for planning."
One highlight early in Levin's career was when she served as project leader for the 1985 soil survey in Baltimore. "This defined urban soils for me, and it was only the second urban soil survey to be done in the U.S. (Washington, DC, was the first). I got to reinvent the process, and it was a great learning experience."
Her career in soil science wasn't always clear. Levin grew up mostly as a city kid, but her family did own a small ranch in California, where they raised apples and cattle. "I worked the apples, I worked the cattle. It was part time, but those chores took all of my spare time!" Originally a psychology major, it was mostly luck that lead her to take a beginning course in soils to round out her course load. She also spent a fall and summer working on a farm in Maine and eventually changed her major to soils and plant nutrition.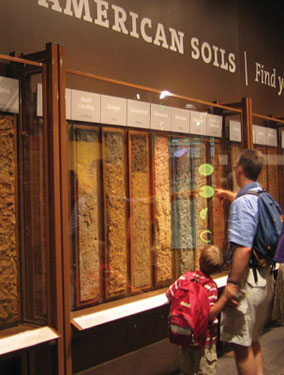 Her dad was concerned that Maxine might not be able to make a career out of a soil science major. "He visited our local USDA district conservationist in Visalia, CA and asked if it could be a career for me," Levin recalls. "I never knew this until 20 years later when I worked under the same USDA conservationist, and he told me of counseling my father that a career in soils was possible."
Connecting with the Public
Levin likes interacting with the public and rarely turns down an opportunity for public speaking. Throughout her career, she liked talking about soils to all walks of life and age groups, including the K-12 student/teacher community. This eventually led to Levin's work as the curator of the soil monoliths for the "Dig It! The Secrets of Soil" museum display, sponsored by Soil Science Society of America. "By the time I got involved with Dig It!, I'd had many opportunities over the years to give key ideas and make connections with the broad variety of people I know from work, and professional, academic, and field soil scientists." All of this was valuable in being on the Dig It! planning committee.
Work on the soil monoliths actually started after the centennial anniversary of the National Cooperative Soil Survey. "We prepped in 1996–1998 to collect the monoliths, but at that time, it was just a glint in our eyes of what could happen with those monoliths. There was a big exhibit of the soil monoliths on the National Mall in 1999, and so many people were interested in them. When the Smithsonian Museum of Natural History and the Soil Science Society of America started to think about Dig It! they approached USDA-NRCS, especially Jim Ware, who had collected the monoliths around the country."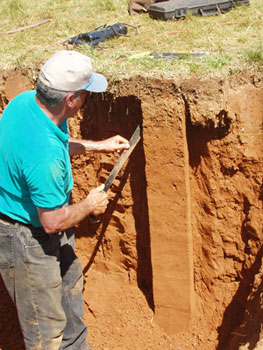 Once Jim retired, Maxine took over as the monolith keeper to make sure they held tight. Dig It! opened in 2008 at the Smithsonian's Natural History Museum and is now traveling across the country, currently on display at The California Museum in Sacramento. "Many people don't realize how old those monoliths are…they are more than 15 years old," Levin says. She is hopeful they will last another 15 years.
Care of the monoliths is tricky, partly due to their age, but also because each museum venue is different. Each monolith has a case created for it, a polyglass clear plastic material to stop people from touching them, due to their fragile nature. The monoliths are dynamic because temperature and moisture can affect the clay and the structure of the soil in the column. "So once a year, the monoliths need a 'treatment'. We add glue—standard white museum glue—because the museums required the material to be non-toxic."
Levin was able to work on collecting a soil monolith on the property of the National Arboretum in DC for the Dig It! exhibit. "It's a beautiful, colorful soil to represent the District of Columbia named Sunnyside soil. It's very red, very flashy, high iron, with a sandy texture and a little clay. Landowners in the District know the soil well."
Outside of working in soil science, Levin spends most of her free time in the arts, something she inherits from her mother. She is an enthusiastic gardener. "I like to look at how to make the garden the most sustainable with the least water and least work." And, she still goes to the family ranch. Although none of her family is living there now, they all like to spend time there.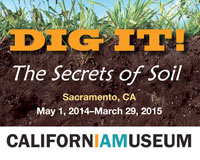 What is the most interesting thing about soil scientifically for Levin? "I am always looking at the whole system, the physical and biological integration. Form does follow function with regard to soil. When I see a response in plant growth or agriculture, I'm usually seeing some kind of push–pull response happening in the soil that is affecting the response you see in plant. Soil is an essential part of environmental science and ecology."
This story originally appeared in the May-June issue of Soil Horizons.