Rooted in field research: Betty Klepper
---
January 09, 2015
This month, we profile retired USDA-ARS plant physiologist and research leader Betty Klepper, who was elected the first female Fellow of the Soil Science Society of America (SSSA) in 1985.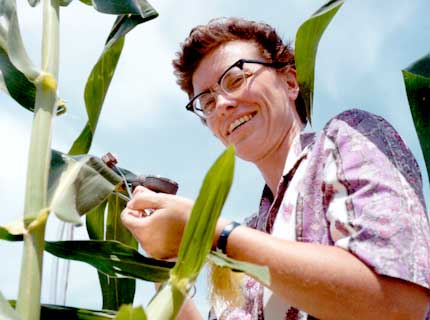 Soil Horizons: You've achieved a lot of success in your career, including being elected the first female fellow of SSSA (elected as an ASA Fellow the same year). Were folks who knew you when you were growing up surprised…or could they see you having success in the science field?
Klepper: The folks who knew me growing up were never aware of the level of my success, except perhaps for my brother. My friends just knew that I had a good job, was doing science, and was happy with what I was doing. My brother came to the meeting where I was given the Fellow awards and maybe had some idea of the accomplishment. I gave a dinner party for him and for several of the ARS folks that had helped me along the way. I think he saw that what I had done was something out of the ordinary.
Soil Horizons: What led you to plant and soil research?
Klepper: Individual people and working out in the field led me to plant and soil research. I was a chemistry and physics major in college but also took courses in geology and biology. My personality fits better with the outdoor scientists in these non-major fields. I got into plant science from the influence of my undergraduate teachers. In my junior year, I took freshman biology and had Dr. Elsie Quarterman as my botany teacher. I really liked the subject but found Dr. Quarterman to be an inspiring teacher. She became a close friend over the years until her death [in 2014] at 103. I am much better suited to field work than lab work. I'm the klutz who spills stuff.
When I worked at Auburn University, I joined forces with the USDA-ARS group there and worked with Dr. Howard Taylor. He had skills that were complementary to mine, and I learned a good bit about roots there. Howard was a soil physicist interested in water influx into crop root systems under field conditions. He was interested in the early phases of plant modeling that was just getting going about then (1972). He was able to tell me the theories and draw little diagrams. I slowed him down and made him be more explicit, more concrete, less abstract, and in the process, was able to help him put more detail into his model….detail that was botanically accurate because of my perspective and experience. We had a long and productive collaboration because we brought different things to the table. So those were the people who brought me to botany and to field research on crops and to roots in particular. But the primary reason was that it was fun!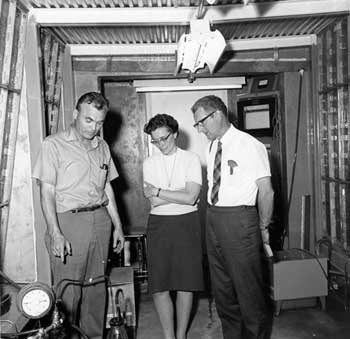 Soil Horizons: Did you have any specific mentors in high school or college?
Klepper: My primary mentor or role model from about the age of 10 until college was Marian Anderson, the opera singer. I read a book about her life when I was 10 and found her to be a model of grace under pressure. She was skilled but also a great human being, and I figured that when I grew up, I wanted to be really good at something like she was and as successful as a person as she was. Strange, but true. If you look at her during performances, she was so solid and sure and so gracious. What a great example to follow.
Soil Horizons: In the conclusion of your chapter in A Spectrum of Achievement in Agronomy: Women Fellows of the Tri-Societies (ASA Special Publication no. 6), you said that although you were trained in botany, "my own inclinations, or my fate, brought me always back into the root-soil system where the greatest mysteries remain to this day. The other half of the plant—that hidden half—was a constant theme in my work over a 30-year period." Was there a specific reason for this curiosity? Do you see others following up on this research?
Klepper: Roots were a place where I could make my mark that few others were willing to tackle. I helped develop techniques for defining root developmental patterns under close-to-field conditions in several teams. We grew plants in glass-sided cages; we grew them in the field in 3-ft-long square tubes mid-row to mid-row wide and a foot thick; we dug them up in various ways to preserve their integrity; and we traced the branching patterns down through depth and observed where new roots were forming under various conditions. Hard work! Roots are important, and there is still a lot to be discovered about them. Their growth and function in respect to the tops, and how each half supports the other, will provide questions for a lot of folks to work on as they find the time and money.
Soil Horizons: In your chapter, you mentioned the Auburn University rhizotron. You also said "Dr. Morris Huck took time-lapse photographs that showed the diurnal shrinking and expansion of individual root segments growing next to the glass interfaces (Huck et al., 1970). Any idea that I might have had of plants being in hydrological equilibrium was certainly gone by now!" Tell me more about this concept…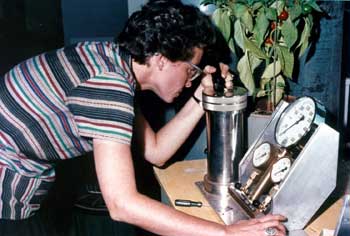 Klepper: When I was trained in the laboratory of Dr. Paul Kramer (Duke University), he was getting used to using the modern terminology for expressions of water status. In the late 1960s, a physically based term was developed called "water potential." It had derivation from physics theory. The idea was that plants were moving water to equilibrate the water's energy across membranes. With a unified terminology, the transport from soil to plant was along water potential gradients. We talked about there being equilibrium between plant and soil at something like 5:00 am when the plant had absorbed water without much evaporation on top. In fact, this equilibrium was rarely obtained. Plants and soils were exchanging water constantly and were frequently in midday very far from equilibrium. This was because of the resistances in the plant system and at the root–soil interface.
We now know that in the middle of the day, plant and soil water potentials are very different because of these resistances. They come closer together at night when the sun is down. The resistances have been measured and modeled. The roots in the middle of the day may lose water to the shoots faster than the root surface can supply water to the inside of the root. This means that the roots shrink and create a gap where transfers are vastly restricted. This is what Morris caught roots doing with his time-lapse photography. The stomates in the leaves can close at midday to ease off the rate of water loss, and the root returns to its former diameter. Fun stuff!
Soil Horizons: You talked about having people who worked well with you. Did you use any tactics to get cooperation between scientists? Was cooperation better at the end of your career vs. in the beginning?
Klepper: One of my strengths as a scientist was working well with others. Girl Scouts probably helped develop my leadership skills: I spent summers at camp working in groups. My tactics were to appreciate every member of the group and support them; try to tie up with someone with complementary talents so that you are never competing; have as much fun as you can and try to make the work pleasant for the rest of the team. Share technician help as much as you can afford because you want eventually to collaborate, and this puts you in a position of having a small toe into another area of science where you may find common ground. Finally, find the good in a fellow worker and then try to help them so that they can display their strengths and are not crippled by their weaknesses.
Soil Horizons: Describe your family…
Klepper: I was the younger of two children born to a lawyer father and a stay-at-home mother. My brother was seven years older than I was, so I was raised somewhat like an only child. I have never married nor have I wished to be because, in my day, marriage and a career in science at the level that I wanted to function was very difficult. I was too driven to succeed to nurture a relationship with a husband or to raise children. So I have no family of my own…and no regrets.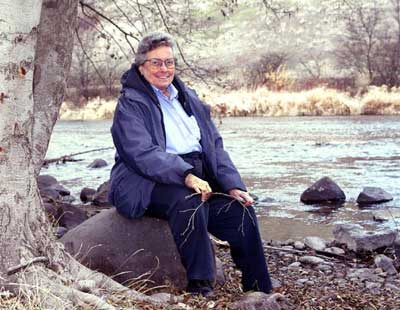 Soil Horizons: Do you have a favorite soil?
The Walla Walla silt loam that we have here near Pendleton (OR). Deep—often over 6 ft deep, vertically relatively uniform, and easy to wash out—perfect for root work.
Soil Horizons: What does a plant and soil scientist do in retirement?
Klepper: When I retired, I gave away all of my reprints, books, and journals. I was president of [the Crop Science Society of America] that year and kept an office for two years at my old lab. I then concentrated on trying to have an impact in my own community. During my career, I was too busy to do much locally. So, it was payback time for me to work for the betterment of a town that had welcomed me and made me feel at home as a professional woman in a time when that was not always forthcoming. I have served on all sorts of boards of directors, task forces, and committees for the past 18 years. I put my major effort into working to improve citizen appreciation for the Umatilla River that flows through Pendleton. We had cleanups of the riverside and river bed during summer and wrote three little books for fifth-grade students on birds, plants, and geology of the river. We took fifth-graders on nature walks along the river to identify birds and plants. We supported a mural of the critters living in and along the river on walls near the riverside where teenagers painted the mural under some supervision. I have been active in Rotary and AAUW until recently. I play mah jongg every Tuesday, and that is the day I let my "inner child" out. I laugh and joke and have plenty of fun. I still see some of my old employees for occasional dinners at the local pizza parlor and cherish the memories.
This story originally appeared in the Jan.-Feb. 2015 issue of Soil Horizons.