Quilting with soil
---
April 27, 2016
Rural landscapes are often described as a patchwork quilt of crops and fields. But what if soil, literally, made a quilt?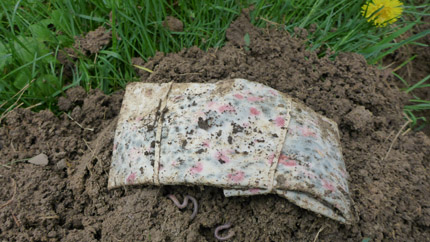 For Erin Schneider, soil scientist and farmer, the connection is obvious. Schneider organized the creation of a 12-by-15 foot "soil quilt" as part of an art installation in rural Wisconsin. "I wanted to share in the heart and soul (and soil) of why farming matters to me and my community," Schneider says.
The quilt is composed of 37 unbleached cotton squares stitched together. Squares were buried in locations across eight states—Wisconsin, Iowa, Minnesota, Kansas, Nebraska, North Dakota, Colorado, and South Carolina. Often the location had personal significance to the landowner: a cherished pet's burial place, or the area under a favorite swing. After two to three weeks, the fabric was unearthed, rinsed, and dried. Unseen soil microorganisms had "painted" their efforts on the cloth in an unexpected variety of colors.
"As farmers, we thought it was important to let the soil speak for itself," Schneider explained. "Thousands of bacteria, along with fungi and protozoa, perform the final processing of once-living material. We brought together themes of art, curiosity, soil, and playing in the dirt back to life."
Typically, soil microbes decay plant residue, breaking it down into the rich organic matter associated with healthy soil. The number and types of microbes in soil is a t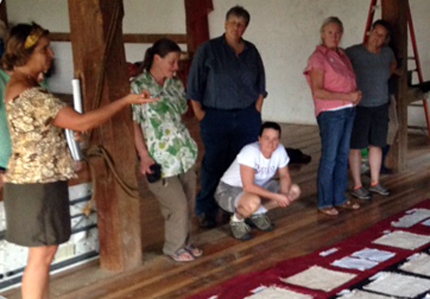 opic of current research. What scientists do know, however, is that these microbes contribute to soil as a living, dynamic, and life-giving substance.
To assemble the quilt, Schneider coordinated sewing bees to stitch the pieces in place and converse about the importance of soil in the community's life. Participants contributed stories about soil and memories of playing in the dirt—many collected in a "soil profiles" binder kept with the quilt. The project grew to include videos, poetry, photos, and blog postings from strangers who heard about the project.
"Key people literally emerged from the soil," Schneider says.
Underpinning the project was recognition of soil as an underappreciated natural resource. "Now that more than 50% of the world's citizens live in urban areas for the first time in history, fewer and fewer people feel a daily connection to the soil," states Melanie Szulczewski. Szulczewski is a soil scientist and associate professor of environmental science at the University of Mary Washington. Although not part of the quilt project, she shares Schneider's soil love. "An urban citizen doesn't see how their food slowly grows in the soil over several months, or how easy the soil can be eroded if it is not taken care of."
"If you look up 'soil' in the dictionary, you'll find that soil evokes all kinds of negative connotations," Schneider adds. "It is no wonder that humans, in general, have treated our soil systems like dirt and something to be corrupted, defiled, and where we dump our garbage. Change the language and you change the culture."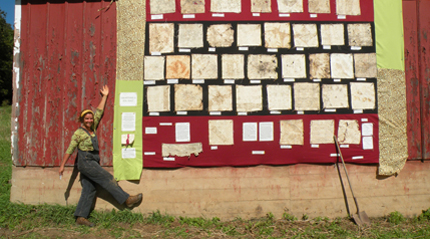 For Schneider, the change is ongoing and personal. Her work as a farmer inspired her to connect to soil in a new way. "As a farmer, scientist, and educator, I rely on research, data, and techniques to help guide me in sustainable land management and stewardship of soil resources. Yet science and technique only get you so far. To grow food sustainably, you also need a bit of love for the Earth, for yourself, and your community."
Soil is part of art throughout the world. In addition to its use in clay pottery and sculptures, soils are used in paint pigmentation. The Bamana people of Mali, among others, stain cloth with fermented muds to create elaborate designs. In 2015, the United Nations' International Year of Soil, the Soil Science Society of America highlighted Soils and Culture in December. Their resources can be found here.
What will come next? Schneider has high hopes for the stuff beneath our feet. "I look forward to the day when the dirt is under everybody's skin."