Middle school student projects published in Soil Horizons
---
March 25, 2013
Work that began as science fair projects for two Baton Rouge, Louisiana middle school students has now been published as peer-reviewed articles in Soil Horizons. Desirae Gardner and Jalen Scott, students at Kenilworth Science and Technology Charter School, teamed up with David Weindorf to complete the two studies that were published in the Mar.-Apr. issue.
The students are part of the Science Research Project Initiative Program (SRPIP) at Kenilworth School that helps students connect with university researchers to do their science fair projects.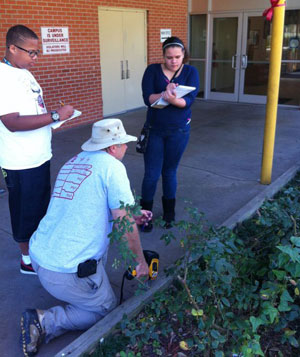 "We are able to establish a strong university partnership to provide opportunities for our students," says Eklhan Akhundov, science teacher and school STEM coordinator. "Desirae and Jalen were two of many students participating in the program."
Weindorf, associate professor in the Louisiana State University Agricultural Center and Soil Horizons editor, was contacted to be one of the collaborators. When asked about what potential projects he could do with the students, Weindorf suggested they use an X-ray gun that he works with to determine soil properties. He thought they could look for the presence of lead and elements found in treated wood on school grounds.
"I was trying to think about something they could relate to, and I hadn't ever tested my X-ray gun looking at those types of compounds," explains Weindorf.
Over Thanksgiving break, Weindorf and the students went around to 11 schools in the district. The students took notes as they worked with Weindorf to collect scans of the soil. After gathering their data, they looked at the levels of lead, chromium, arsenic, and copper.
"We really didn't know what we were going to find," says Weindorf. "It turns out we did have some areas with levels of compounds higher than the screening limits in Louisiana."
Local school districts are now working with the Louisiana State University Agriculture Department and the Department of Environmental Quality to expand the students' findings and test other schools in the area. Meanwhile, in their papers, Weindorf and the students suggest simple and inexpensive measures to decrease possible exposure to the compounds in the soils. These could include planting bushes to block access to certain areas, laying down gravel over the soil, or moving school gardens farther from buildings where lead paint might be present.
In addition to a better understanding of the soils around their schools, Weindorf is also excited that students gained an appreciation for science and hands-on research.
"It's really cool to see them engaged," says Weindorf. "There aren't too many other middle schoolers who can say they have a published research paper. You can see in an instance like this how you can take those young minds and get them interested in science."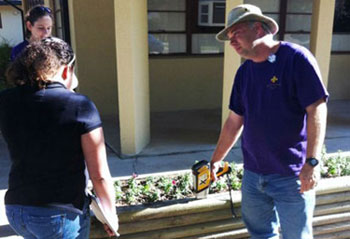 Akhundov is also enthusiastic about the collaboration of students and scientists and the opportunities it provided for the middle schoolers. He said that many of their peers, seeing the benefits of working on such a project, are now interested in doing their own projects.
"This achievement, especially after being published in Soil Horizons, has attracted media attention widely, which amplified its effect on other students," explains Akhundov. "Their classmates were excited about their friends' success."
Additionally, since Kenilworth is a school focused on STEM (science, technology, engineering, and math) subjects, Akhundov sees great value in bringing science to young students. The school hopes to prepare students for rigorous science classes in high school and, eventually, for a STEM major in college.
"We are very happy to see that the project actually became a life-changing experience for Jalen and Desirae," says Akhundov. "This has increased awareness and engagement of our students about the importance of STEM studies throughout the school."
Desirae's article can be found at https://dl.sciencesocieties.org/publications/sh/abstracts/54/2/sh12-12-0032
Jalen's article can be found at https://dl.sciencesocieties.org/publications/sh/abstracts/54/2/sh12-12-0034