Longtime member wins 2012 World Food Prize
---
June 11, 2012
An Israeli-American scientist and 52-year member of the Soil Science Society of America and American Society of Agronomy has been named the 2012 World Food Prize Laureate. The selection of Daniel Hillel was announced on Tuesday, June 12, 2012 in Washington, D.C., at a ceremony where Secretary of State Hillary Rodham Clinton delivered the keynote address and shared in naming Hillel the recipient.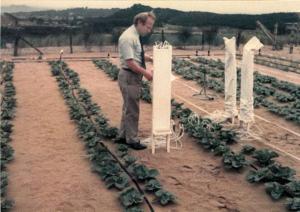 Following his selection, Dr. Hillel released this statement from Zikhron Ya'akov, Israel: "My joy and gratitude at being granted the World Food Prize this year is tempered by the realization that the work this award recognizes is far from complete. The task of improving the sustainable management of the Earth's finite and vulnerable soil, water, and energy resources for the benefit of humanity while sustaining the natural biotic community and its overall environmental integrity is an ongoing and increasingly urgent challenge for our generation and for future generations. Meeting this challenge will require enhanced global cooperation and integrated scientific research. It is a task, indeed a collective responsibility, that we cannot shirk and must indeed broaden and intensify."
A Pioneer in Efficient Water Use
Born in the United States but raised in Israel, Hillel was first drawn to the issue of agriculture and water scarcity during his days living in Israel's Negev Desert. His research led to a shift from the prevailing method of irrigation where farmers typically applied large amounts of water in episodes of flooding to saturate their fields, followed by longer periods of manufactured drought to dry out the soil. The new method of micro-irrigation that he developed applied water in small but continuous amounts directly to plant roots. It both cut the amount of water needed to nourish and maintain crop health, and resulted in higher yields to feed more people.
Hillel's water management concepts have since spread around the world, integrating scientific principles with practical applications and outreach to farmers, communities, researchers, and agricultural policymakers in more than 30 countries,
Learn more about Hillel here: http://www.worldfoodprize.org/index.cfm?nodeID=47890&audienceID=1
Dr. Hillel will formally receive the $250,000 World Food Prize award at the 26th Annual Laureate Ceremony at the Iowa State Capitol on October 18, 2012. The ceremony will coincide with the Borlaug Dialogue International Symposium in Des Moines, Iowa.