Life as a state soil scientist: Kevin Sullivan
---
November 06, 2012
Raised in northern Wisconsin, Kevin Sullivan spent every possible moment outdoors. He made time for hunting, fishing, and even some hay bailing. His love of the outdoors grew as his classes led him to study northern flora and fauna and water quality in the lakes and streams. After graduating with a soil science degree from Stevens Point, WI, Sullivan has now logged over 30 years with the Natural Resources Conservation Service (NRCS) of the U.S. Department of Agriculture (USDA).
Sullivan currently works as the state soil scientist for Washington, and his job allows him to interact with several groups including state leaders, farmers, students, and the public. His latest endeavor to raise awareness and understanding of soils helped bring the Dig It! exhibit to Spokane, WA from February to September 2012. The exhibit taught visitors that Washington has some of the most fertile soils left on the planet and offered presentations, panel discussions, and lecture series. Here's what Sullivan told Soil Horizons about moving from Wisconsin to Washington by following the soil.
Soil Horizons: How did you become interested in soil science? Was it one thing or a set of things that lead you to this career?
Sullivan: I had enthusiasm for studying the physical and biological sciences. The interrelationships in nature were intriguing. In college, once exposed to soil science and soil mapping, I knew I had found a special niche that I seemed to appreciate more than others and which came naturally for me. A couple of summer experiences with the government led me to apply with the USDA. As a 19-year-old, I was fortunate to land a summer position doing a visitor use survey and camping with the bears as a volunteer for the U.S. Forest Service in the Idaho Primitive Area. Another summer, I found myself searching for coal deposits and chasing antelope and wild horses with the U.S. Geological Survey in Wyoming. Compared to factory work, being a roughneck, and other lifeless summer experiences, these were life changing, and I now had a vague idea where my future might lie.
Soil Horizons: What do you enjoy most about your work? Any funny stories or anecdotes to share?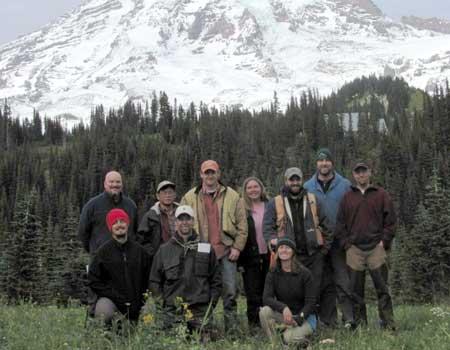 Sullivan: I enjoy being integral in environmental decisions related to conservation, land use, and water quality. It's fulfilling to share knowledge about soils and the environment with all aspects of society and train young and old in the subtleties of soil science. Young people are enthusiastic about learning and I enjoy being involved in environmental education such as Envirothons, land judging, science fairs, 4-H, and Earth Day activities. That is why the Dig It! exhibit and all the activities surrounding it at Spokane's Northwest Museum of Arts and Culture (MAC) were so much fun to participate in. We had thousands of students and adults interact with the exhibit, which came here in February 2012.
Other than student education, I have also enjoyed mapping soils around the country and informing users what the soils should and shouldn't be used for in the form of soil surveys, workshops, and hands-on experiences. Landscapes are a complex three-dimensional puzzle, and integrating all the resources and their concerns is a rewarding challenge. Working with different disciplines, such as engineers, hydrologists, and environmental scientists, keeps you sharp technically.
To keep my senses sharp through the years, I've had the opportunity to wade through a countless number of swamps with gators, water moccasins, and wild boars. I've come face to face with moose and bear, jumped antelope, mule deer, elk, big horns, and enjoyed some of the most beautiful ecosystems in the country. The excitement started early, such as on one moonlit evening as a lone volunteer in Idaho, when a hungry bear nudged my toes sniffing through the tent flap and stumbled away disoriented and snorting in disgust. It's probably just a fortunate coincidence, but snakes and gators also have refused to take a taste.
Soil Horizons: Where have you lived and worked? How did you end up in Spokane?
Sullivan: I have mapped soils and analyzed and correlated data from a variety of physiographic regions in over a dozen counties in Florida (where I began my career), and been on mapping details in Maine (twice) and Virginia. I have also been a soil survey project leader, overseeing millions of acres in eastern Montana. As the director of a nonprofit in northern Florida, I assisted locals with no-till farming practices and numerous conservation measures. Five years was spent helping others as a liaison/soil scientist with a large water management district serving millions in Florida, and my last position was as the NRCS Area Resource Soil Scientist responsible for South Florida.
Timing (along with persistence and preparation) is everything, and I was looking for a new challenge and new responsibilities. I have always loved the Pacific Northwest with its geographical and agricultural diversity and beauty. The State Soil Scientist position in Spokane has fit me perfectly. I traded fine sand for volcanic ash, and oranges for apples, but both are premier agricultural states and keys to our national strength and security.
Soil Horizons: What is your current job? If I were to shadow you for a day on the job, what would I see you doing?
Sullivan: Every day is challenging, and we establish priorities by focusing on annual and long-range plans. As the state soil scientist for Washington, I supervise, coordinate, and synchronize the soil-related activities, but it's definitely a team effort. I advise and assist state leaders in allocating resources as effectively as possible to carry out all soil surveys and technical soil services in the state of Washington. I also oversee ecological site development, the National Resources Inventory, and soil interpretation development. I communicate with the Major Land Resource Area Soil Survey leaders for quality control purposes and developing priorities. It's essential that project plans are being carried out and on schedule. Also, the state soil scientists are bridge builders between our national cooperative soil survey cooperators and soil survey inventory activities, and we stay on top of the agreements between partners. Working with farmers and ranchers, other professionals, students, and the general public is very rewarding. I try to assist all users of soil survey information. Regular opportunities arise to participate in soil survey field reviews and on-site visits to areas, such as wetlands, to solve various problems.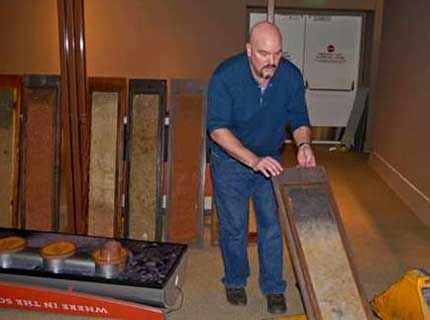 Daily managerial duties, such as budget and equipment management, aren't nearly as exciting but do keep my days full. There are also other important activities one can be involved in regardless of your experience level. I have served nearly a decade at state and national levels on civil rights committees, and of course there are professional committees where you can interact with peers in the public and private sectors.
Soil Horizons: Would you encourage others to work in soil science?
Sullivan: Soil science is a rewarding field. Soil scientists work for federal and state governments, universities, and the private sector. Soil science positions are difficult to come by, but everything is cyclical. As the economy picks up, so will opportunities. If one stays optimistic and aggressive, there will always be slots if you're persistent. The job of a soil scientist includes collection of soil data, consultation, investigation, evaluation, interpretation, and planning, and it involves making recommendations about many resource areas. This competitive field includes careers in private consulting which may lead one to work with wetlands, septic systems, crop advising, etc. You may excel as a watershed manager, state soil and water quality specialist, soil conservationist, soil scientist doing mapping and interpretation, marketing manager for an agricultural firm, or a countless number of other positions.
At NRCS we have the Pathways Programs, which are tailored to recruit, hire, develop, and retain students and recent graduates. They offer clear paths to federal internships for students, from high school through post-graduate school, and careers for recent graduates, and they provide meaningful training and career development opportunities for those beginning Federal service. USAJOBS is still an important site for tracking federal opportunities.
Soil Horizons: The Dig It! exhibit is amazing—why did you volunteer to help out with it? Did you learn anything from it?
Sullivan: The hands-on exhibit provided learning opportunities for all ages, from pre-K to adult. Opening day included presentations and a panel discussion with Smithsonian professionals, local scientists and conservationists who provided a thought-provoking panel discussion about global hunger. We also had a distinguished lecturer series accompany the exhibit. This included: "Aldo Leopold's Land Ethic" with Professor Estella Leopold; "Dirt: The Erosion of Civilizations" with Professor David Montgomery; and "Toward a Sustainable Future" with Professor John Reganold. Endeavors such as this could not be accomplished without support from Washington's State Conservationist, and enthusiastic partners such as the Spokane Conservation District (SCD) and the Washington State Conservation Commission (WSCC). All provided critical support to Spokane's Northwest Museum of Arts and Culture.
Working with the exhibit and the people surrounding Dig It! was a rare opportunity that comes along only once in a person's career. Dig It! is an amazing learning resource, and I've also learned that our future is in good hands, as our young people are brighter and more engaged than we sometimes give them credit for. Learning about soils and soil biology (they loved bugs and the tub of worms) is enjoyable for them when taught through interacting and hands on activities. The universe below is still one of man's biggest mysteries, and Dig It! helps bring its importance to the surface.
Soil Horizons: Anything you'd like to add?
Sullivan: Throughout life, roles and responsibilities inevitably change, and one must stay flexible, open-minded, and accepting. To advance the science, we need soil scientists who aren't afraid to get their hands dirty and enjoy working directly with the customer. Computer and GIS skills are vital for today's graduates, and one also needs interpersonal and communication skills as well. As a soil scientist you have to be hungry for answers to questions and solutions to problems in agricultural and environmental settings. We all have choices to make and given the opportunity, I would do it all over again.
This story originally appeared in the Nov.-Dec. 2012 issue of Soil Horizons.