When consulting is your calling: Oren Reedy
---
February 20, 2012
Ever wonder why a scientist decides to make soil a career focus? The relaunch of longtime Soil Science Society of America print publication Soil Survey Horizons, as the repositioned and enchanced online only Soil Horizons, is allowing new content meant to answer this important question as never before in its more than 50-year history.
A "Day in the Life," kicks off a series of interviews to highlight the breadth of experiences, challenges, and rewards found within the soil science profession. In this first feature, learn more about Oren Reedy and why he claims luck helped him find what he loves to do.
Meet Oren Reedy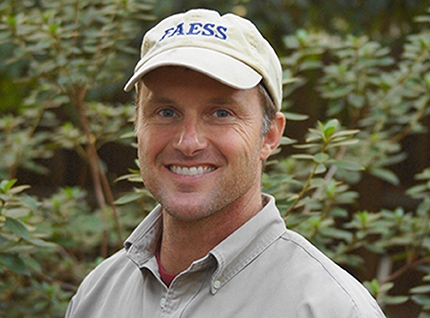 Oren Reedy grew up on a Tennessee farm that was so remote "we had to pump sunshine in," he says. While there, he developed a love of independence and the outdoors that today find perfect expression in his work as a professional soil scientist. After earning a master's degree from the University of Tennessee in 1995 studying the fate and transport of contaminants in soils, Reedy did contamination assessments at the Oak Ridge National Laboratory and in private industry for nearly 10 years. In 2003, he struck out on his own, launching the consulting business O.C. Reedy Associates, Inc. in Jacksonville, FL. Although his wife thinks he now spends his time mostly talking on the phone, watching birds, and snacking in his truck, jokes Reedy, his days are actually filled with a variety of soils work including wetland delineation, septic system design, and soil mapping. And, well, watching birds and talking on the phone because in consulting, Reedy says, "It's what we do!"
Soil Horizons: How did you get interested in soil science originally?
Reedy: My undergrad degree [in environmental science] gave me some exposure to it. Then I went to graduate school, and I wasn't quite sure what I wanted to do. I was working at the Oak Ridge National Lab, and I kind of fell into a project that was soil science based. And that's what I ended up getting my degree in. So, it really was kind of by chance, kind of by luck. I just bumped into the right person who had a project with money. And contamination was such a big thing around the national lab, it just worked out perfectly.
Soil Horizons: What's a typical day like for you now?
Reedy: Usually what I do is get up in the morning and go run. After I get through running, I come back, cool off, start the coffee going, and then take the long commute back to the back bedroom: my office. Then I'll get caught up on email, check appointments, do some paperwork—you know, fill out permit applications—get that squared away. Then I go out in the field to do some site evaluations for stormwater, or septic mainly nowadays. On the way to the sites, I'm always going by some water somewhere, and there are always birds around. So I pull off, get my binoculars and bird books out, and watch some birds for a while, probably take some pictures. I'm always looking at something on the way to wherever I'm going like snakes and tortoises. This is what my wife thinks I do. She thinks I screw around all day and dig holes. Every little boy's dream, right? (laughs)
Soil Horizons: What's the most rewarding part of your job?
Reedy: I work for anybody from the big developers all the way down to the individual homeowners. But working with the individual homeowners is probably the best thing. I mean, everybody comes to you with a problem. But it's really the passion of the individual homeowners … when you solve their problem for them, they're just so thankful and gracious. That's the most rewarding part of the whole deal, helping people out like that. Because for the most part, solving their problem is pretty straightforward when you've done thousands of these things. Sometimes people think it's such an amazing problem. But the solution a lot of times is pretty easy to come up with.
Keep reading this interview with Soil Science Society of America Member and SSSA Consulting Soil Scientists (S12) Division Chair Oren Reedy here:https://www.soils.org/publications/sh/articles/53/1/6
If you have an idea for a profile or feature report, contact Lisa Al-Amoodi at lalamoodi@sciencesocieties.org.