Creating a global digital soil map
---
October 03, 2012
On the wall of Alfred Hartemink's office at the University of Wisconsin-Madison hangs a framed picture from 1960. The World Congress of Soil Science was in town that year, and a large group of soil scientists posed for a photo along the campus shoreline of Lake Mendota—the same lake Hartemink now sees every day from his office window.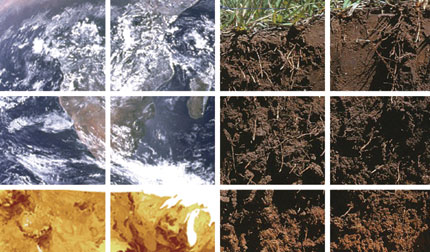 The historical connection clearly pleases the Dutch soil scientist and SSSA member, who came to UW-Madison just last year after living and working all over the world—most recently at ISRIC-World Soil Information in Wageningen, the Netherlands. But the real significance of the 1960 meeting wasn't in the setting, but in what the group, known as the International Society of Soil Science (ISSS), decided to do.
Despite the rifts created by the Cold War and Suez Crisis at the time, "They said, 'Let's do something bold. Let's make a soil map of the world,'" recalls Hartemink, who is secretary general of the successor organization to ISSS: the IUSS, or International Union of Soil Sciences. And eventually they did, although it took 25 years.
"That's the FAO-UNESCO soil map of the world," he says. "The only one we have at the moment."
That may be true now, but a second map is on the way. For the past five years, in fact, Hartemink and dozens of other soil scientists worldwide have been working not only on another global soil map, but also a digital one this time round: a fine-resolution spatial repository of data on pH, organic carbon levels, texture, and other soil properties that can be readily and continually updated.
Named GlobalSoilMap.net, the effort is somewhat like going from a 1980s printed road atlas to Google Earth in one giant leap, and there are major scientific and technological hurdles to overcome. Add the challenges of reaching consensus on methods, coordinating dozens of institutions around the globe, and surmounting geopolitical obstacles to data sharing, and "it's quite an endeavor to produce a global digital soil map," says University of Florida soil scientist and ASA and SSSA member Sabine Grunwald, who leads an ASA Community focused on the project.
But the map is also desperately needed. Existing soil maps—like the FAO-UNESCO one—are often years or even decades out of date. More critically, the soil class information they contain can't easily be used by researchers in other fields, making it difficult to fully integrate soil science with hydrology, ecology, agronomy, climate science, economics, and other disciplines. Instead, scientists in these fields often produce their own estimates of soil properties "and that scares us," says Hartemink, who led GlobalSoilMap.net from the Netherlands until last year.
"So often we see [in studies] that soils are either not treated at all or are treated as a 50-kilometer average across large chunks of space," agrees Alex McBratney, a University of Sydney soil scientist and the project's overall scientific advisor. "But we know that the variability of soils at finer scales is actually important in the behavior of ecosystems."
While this is frustrating, he adds, the real issue is how the lack of digital information hinders our ability to know the impact of soils on global climate change or predict the water-holding capacity—and thus, crop-growing potential—of soils worldwide. In other words, the group isn't making the map merely because it can or to prove to other researchers that soils are important.
"The real aim, and maybe we're being idealistic, is to tackle those larger global issues," McBratney says.
Read more in the October 2012 issue of CSA News magazine.