Battling obesity issues with a shovel
---
October 01, 2014
From a young age, we are told to eat our vegetables. But that can be a difficult to do if there are no stores selling fresh, nutritious foods in your neighborhood. Rapidly growing, urbanized areas are riddled with these so-called "food deserts."
Associate professor and soil scientist James Montgomery from DePaul University in Chicago explains the issue: "In Chicago and other cities, grocery stores have pulled up stakes in inner city neighborhoods."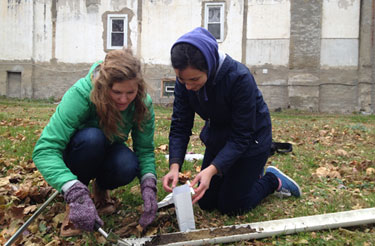 In underserved communities like Chicago's south side, food options are limited. "If you don't have a car, and don't want to lug groceries on public transit, after a while folks just give up and buy what is available," Montgomery says. That's usually pre-packaged food. "You won't find a grocery store in many south side neighborhoods. What you will find are gas stations, McDonalds, and Taco Bells."
The cheap, nutrient-poor, high-caloric food sold in gas stations and fast food joints plays a part in the growth of obesity and related diseases among urban populations.
Children are especially vulnerable. A recent study published by the City of Chicago found that one in five public school children are obese.
"It's become a national crisis that impacts the entire country," Montgomery says, "Obesity, diabetes, and hypertension are all health issues typical to inner cities."
But urban communities aren't throwing in the towel yet; many organizations are coming together and getting their hands dirty—literally. Urban gardens and other small scale agricultural projects are sprouting up in many cities around the country, including Chicago.
"Chicago is at the forefront of urban gardening." says Montgomery, "We know that urban gardens promote activity, educate folks on how to eat healthier, and lower stress."
Last year, Montgomery and a group of DePaul students teamed up with the Gary Comer Youth Center, a non-profit organization that focuses on extracurricular education for kids and teens. One of the Comer Center's programs is called Green Teens, which uses the Comer Center's extensive rooftop garden to educate teens about agriculture and nutritious eating.
Montgomery and his students worked with the Green Teens to test the soil for lead on the Comer Center's plot. Many urban soils have high concentrations of lead, which can poison plants that are grown in it.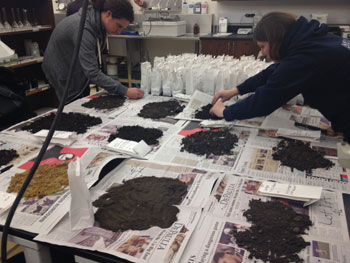 "It was a great marriage between the DePaul undergrads and the Green Teens," Montgomery says. "We were able to teach the importance of testing soils in inner cities."
Openlands is another Chicago non-profit with a hand in community gardens, specifically on school grounds. "We want to provide a different learning environment beyond the classroom," says Kristin LoVerde who heads up the garden program. "Our ultimate goal is to make the garden a classroom."
Openlands helps schools develop and execute a vision for their garden over a period of nine to 12 months. "There's been more of a push for edible gardens and 'eat what you grow' programs," LoVerde says. "It's exciting to see a community come together on a common vision of what they want."
Beyond their practical use as a learning tool, gardens provide a place for communities to gather. Anthropologist Howard Rosing at DePaul University studies urban food access. "The urban garden movement is not just about food access; it's also about building community," says Rosing. "Gardens provide a safe, educational space where kids and older folks can interact and mentorships can form."
Community gardens aren't the silver bullet for childhood obesity issues, says Rosing. However, the growth of urban agriculture is slowly causing a shift in the way people think about food. "What really keeps people charged about community gardens is seeing their kids get engaged," says Rosing, "And above all, the benefits of coming together on a project and the satisfaction of creating something." Integrating urban agriculture with education has the potential to nudge communities to try nutritious foods and build beautiful spaces. Breaking a sweat over a shovel doesn't hurt either.