Green Roofs
---
What types of green roof are there?
Green roofs are designated as extensive, semi-intensive, or intensive. The designation depends on their depth, type of vegetative cover, and function.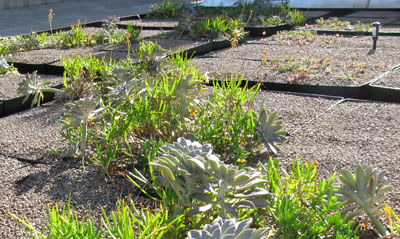 Extensive green roofs are low-maintenance. They have shallow soils or other growing media that are well-suited for low-growing plants like Sedum and other succulent species. They primarily function as an ecological protection layer, such as a filter for stormwater. These green roofs are typically maintained at only 3 to 5 inches high and are not usually irrigated. They are shallow and covered with low-growing grasses, herbs, or succulents.
This helps extensive green roofs to be well-suited for roofs with little load bearing capacity. The weight of an extensive green roof will range from about 13 to 30 pounds per square foot. Extensive green roofs are also the least expensive green roof type.
In contrast to extensive green roofs, intensive green roofs contain a greater variety of plant types. They also require greater maintenance and additions of fertilizer and water. An intensive green roof is designed to look much like a city park, with lawns, perennials, bushes, and trees. Some intensive green roofs even have benches, ponds, or playgrounds built into their designs. Green roofs used for rooftop farming are one example of an intensive system. Intensive green roofs require a roof with high load-bearing capacity, as they may weigh 35 to 80+ pounds per square foot. They will also require a permanent irrigation system and are the most labor-intensive and expensive green roof type.
In between extensive and intensive are semi-intensive green roofs, which are grown 5 to 7 inches high with perennials, small shrubs, and ornamental grasses. They do not contain tall-growing bushes or trees. Semi-intensive green roofs have moderate watering and maintenance needs and are suited for roofs that can support 25 to 40 pounds per square foot of load. They function as stormwater filters and habitat for urban wildlife.
There are also monolithic and modular green roofs. A monolithic green roof is one where all components are placed on the roof in layers and plant roots are free to intertwine with those of adjacent plants all across the roof. A modular green roof system, on the other hand, is made up of multiple containers or green roof trays. These trays contain all the components of a green roof, such as drainage, root containment, growing media, and plants.
Green Roof Standards
Viewed from the surface, green roofs appear to be natural. However, the material beneath the plants is typically composed of an engineered growing medium. The medium is high in minerals and low in organic matter (less than 8%). Research on the best growing media for green roofs was pioneered in Germany and Switzerland. In the 1970s, a group of German researchers developed the FLL German Green Roofing Guidelines, which aided those developing, designing, and constructing vegetated roofs.
When creating the growing medium for a green roof, designers need to consider several factors:
the composition of the medium;
its drainage characteristics; and,
the fertility requirements of plants.

During the 1980s, there were major advancements to development of lightweight growing mediums. This allowed green roofs to become part of standard building construction worldwide. Today, the FLL Guidelines represent the state-of-the-art performance specifications for green roofs abroad. In North America, guidelines and standard tests for green roof construction and maintenance, including the American Standard Testing Methods (ASTM) guideline, are being developed. A non-profit organization, Green Roofs for Healthier Cities (GRHC), is a leading organization for green roof industry standards in North America (www.greenroofs.org). GRHC has partnered with green roof manufacturers and the American National Standards Institute to develop industry standards related to fire prevention, wind uplift, and root repellency.
Always check with local building code offices before beginning a green roof construction process. One of the most important considerations will be the load-bearing capacity of the existing roof. Local building code offices will have information on how to check the structural requirements of your green roof design. In most cases, a building permit must be obtained to begin and carry out a green roof project. Check with your state or county building code office for more information.
Next...Agriculture on green roofs