Green Roofs
---
By Bruce Dvorak,Texas A&M University, and Mary Lusk, University of Florida.
What is a "green roof"?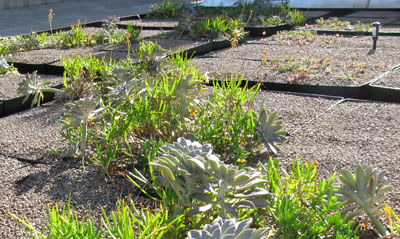 Like their name implies, green roofs are vegetated rooftops that are designed to alleviate some common problems in urban areas, including elevated air temperatures, flooding, and air and water pollution.
By intercepting stormwater that would otherwise flow off roofs into rain gutters and onto city streets, green roofs can reduce urban flooding. The plants in green roofs capture carbon and clean the air, and these rooftops reduce energy use and help manage urban heat islands. They can also provide islands of habitat for urban wildlife, and even produce food in places where the land only long ago supported farming.
Green roof technology is still under development in the United States; however, research and innovation continues to expand the possibilities and benefits of urban greening with green roofs.
Types of green roofs
Some designs, called "extensive" green roofs, are low-maintenance, with shallow soils or other growing media that are well-suited for low-growing plants like Sedum and other succulent species. "Intensive" green roofs, which include rooftop gardens, contain a greater variety of plant types (potentially even trees and shrubs) and require more input and maintenance.

There are also "monolithic" and "modular" green roofs. A monolithic green roof is one where all components are placed on the roof in layers and plant roots are free to intertwine with those of adjacent plants all across the roof. A modular green roof system, on the other hand, is made up of multiple containers, or green roof trays. These trays contain all the components of a green roof, such as drainage, root containment, growing media, and plants.
Green roof standards
On the surface, green roofs appear to be natural; however, the soil beneath the plants is typically composed of an engineered growing medium that is high in minerals and low in organic matter (less than 8%). Research on the best growing media for green roofs was pioneered in Germany and Switzerland. In the 1970s, a group of German researchers developed the FLL German Guidelines for Rooftop Greening, which aided those developing, designing, and constructing vegetated roofs.
When creating the growing medium for a green roof, designers need to consider the composition of the medium, its drainage characteristics, and the fertility requirements of plants. During the 1980s, major advancements in development of lightweight growing mediums allowed green roofs to become part of standard building construction worldwide. Today, the FLL Guidelines represent the state-of-the-art performance specifications for green roofs in Europe and elsewhere abroad. In North America, guidelines and standard tests for green roof construction and maintenance are being developed. But they still lag behind the guidance provided by the German FLL Guidelines.