Grey Infrastructure
---
While green infrastructure refers to projects that draw from nature to achieve desired results, grey infrastructure includes the pipes, pumps, ditches, and detention ponds engineered by people to manage stormwater.
Such systems require technical engineering, continual maintenance, and often need to be upgraded. For example, underground pipes and combined sewers are the relics of our past approach to stormwater management. Increasing urbanization, higher runoff volumes, and corroding pipes have put a strain on these systems. Recently many of these systems have had to be expanded to meet the growing demands of our sprawling urban areas at a high cost.
Grey infrastructure expansion: Washington, DC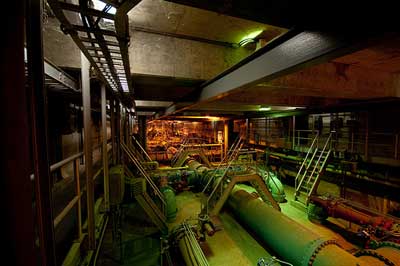 DC Water in Washington, DC, is currently upgrading and expanding its water treatment system to meet the demands of increasing stormwater flows. The $3.8 billion Capital Improvements Project includes projects to reduce "combined sewer overflow" (CSO) events (see: How Water Moves in Cities) and better manage stormwater including: increasing capacity at the Blue Plains water treatment plant; constructing multiple tunnels to control overflows; and rehabilitate several pumping stations to meet new expectations for stormwater flow.
DC Water projects these improvements will result in a 96% reduction of CSO events when completed in approximately 2025. But such projects come at a high cost to taxpayers. For example, construction of a 10-mile tunnel to control flows to the Anacostia River will alone cost approximately $1.67 billion. The plan also includes funds for research and development of Low Impact Development (LID) projects to help alleviate the amount of water flowing into these systems.
Another example: Portland, Oregon
DC Water is just one of many cities faced with the costs of expanding wastewater systems to meet increasing flows. In 1991 Portland, OR, entered into a formal agreement with the Oregon Department of Environmental Quality to significantly reduce CSO events by 2011. The city's approach has been to reduce the amount of stormwater flowing into the combined sewer system, and increase the handling capacity of pipes, pump stations, and the city's water treatment facility. Acknowledging that stormwater accounted for 80% of water flowing in underground pipes, the city focused its initial efforts on reducing stormwater flows through green roofs, bioswales and "downspout disconnect" programs.
However, grey infrastructure improvements were still needed to meet Portland's CSO reduction goals. In 2000, the city finished installing a 3.5-mile, 12-foot diameter pipe, which carries 350 million gallons of water to its treatment plant, reducing CSOs to the Columbia Slough. Additional "big pipe" projects were completed in 2011 to reduce flows to the Willamette River. These projects reduced overflows by 94% and 99% to the Columbia Slough and Willamette River, respectively.
Overall, Portland's approach to reduce stormwater flow by installing green infrastructure saved tax payers more than $300 million. However, improvements to grey infrastructure still cost the city $1.4 billion.
All of these expansion projects come at significant costs to taxpayers, and like the systems before them, they will need to be replaced eventually. Green infrastructure can alleviate both the burdens to these systems and pollution in our waterways now and in the future by reducing runoff quantity and increasing water quality.