Community Gardens
---
What is a community garden?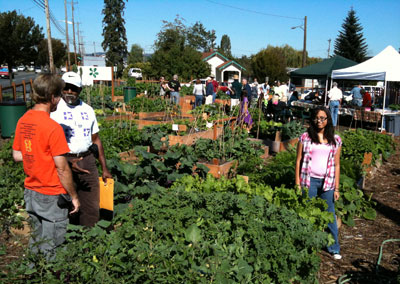 The American Community Gardening Association defines community garden broadly. A community garden can be urban, suburban, or rural. It can grow flowers, vegetables—or community. It can be one community plot or many individual plots. It can be located at a school, hospital, or in a neighborhood.
Another way of thinking about community gardens are as "community-managed open spaces." These differ from a park or public space where some other entity ultimately decides the purpose of the site and maintains it. Community gardens are where the residents of a community are empowered to design, build, and maintain spaces in the community.
Why community gardens?
Neighborhoods with successful gardens:
Combat food insecurity, both in quantity and quality

Build on the resources of cities, towns, and counties to deal with urban problems

Fight climate change by reducing the distance food travels, and minimize the carbon footprint of food

Boost the local economy

Improve community health through better nutrition and increased physical activity

Create social capital
In short, community gardens build stronger and safer communities.
Community gardening in Tacoma
---