---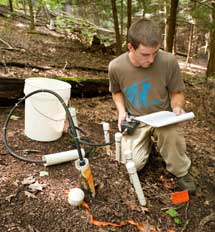 Considering professional certification? The SSSA certification programs are voluntary and offer similar benefits to the public as licensing programs. The certification programs set standards for knowledge, skills, and conduct that define the professions of soil science and soil classification. These certifications provide clients, employers, and government agencies with a tool to help them choose professionals with the necessary skills to meet their needs.
---
Earning certification brings you opportunity, recognition, and respect. As a Certified Professional Soil Scientist (CPSS), Certified Professional Soil Classifier (CPSC), or Certified Soil Technician (CST), you have demonstrated your commitment to your profession and your continuing professional development.  Utilize our certification tools to manage your account information and continuing education units and stay current with industry stanadards.
---
The exams for the Certified Professional Soil Scientist (CPSS) certification and state Soil Scientist licensing programs are developed and maintained by the Council of Soil Science Examiners (CSSE). To achieve certification as a CPSS or CST, you are required to pass the Fundamentals of Soil Science exam. If you work in a soil science licensing state, you must follow that state's licensure program. Please check the list of licensure states here.
---
The Soil Science Society of America (SSSA) has provided the perfect location and tracking system to locate one of our 700+ Certified Professional Soil Scientists (CPSSs), Certified Professional Soil Classifiers (CPSCs), or Certified Soil Technicians (CSTs) within your area. You can search by Certification, Area of Expertise, City, State, Region or Zip code.