Careers in Soil Science
---
A Day in the Life
---

Ever wonder why a scientist decides to make soil a career focus?
Who better to ask than the scientists themselves!
This series of interviews highlights the breadth of experiences, challenges, and rewards found within the soil science profession.
Please visit our A Day in the Life and Career Profiles pages to learn more!
Explore Careers
---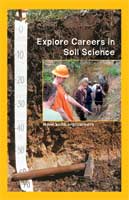 Soil scientists explore and seek to understand the earth's land and water resources. Students of soil science learn to identify, interpret, and manage soils for agriculture, forestry, rangeland, ecosystems, urban uses, and mining and reclamation in an environmentally responsible way. Graduates can choose from a range of excellent professional opportunities and challenging careers. Learn more and help spread the word with our Explore Careers in Soil Science brochure and poster. Contact us for multiple copies.
Colleges and Universities
---

View a list of Colleges and Universities with Soil Science and Environmental Science courses and/or degrees. Be sure to also check out our information for prospective college students.
what soil means in my world
---

The SSSA 75th Anniversary Committee offered the "What Soil Means in My World" Video Contest in honor of the SSSA 75th Anniversary. These winning videos exemplify how soil is used or viewed in global issues (climate change, health, economic, sociality), the impact of soil on local to world events, and soil as a natural/ecological/environmental resource.
careerplacement.org
---
---
The Career Center promotes and encourages opportunities in soil and environmental sciences and serves as a clearinghouse for resumes and job listings. Employers and recruiters will find the most qualified talent pool with relevant work experience to fulfill their staffing needs. Visit our career center for the following:
➤Job Seekers search jobs and post your resume
➤Employers post positions and search resumes
➤View Annual Meeting Career Center Activities
➤Find Career Tools
Visit careerplacement.org for all these features and more!